Hoda Kotb and Jenna Bush Hager continue to host the fourth hour of the Today Show amid the coronavirus crisis. With their new segment Hoda and Jenna Unscripted where the two co-hosts randomly speak on a topic or current event in their lives and take viewer questions, Hager recently asked a potentially sensitive question of her co-anchor while revealing some personal information of her own.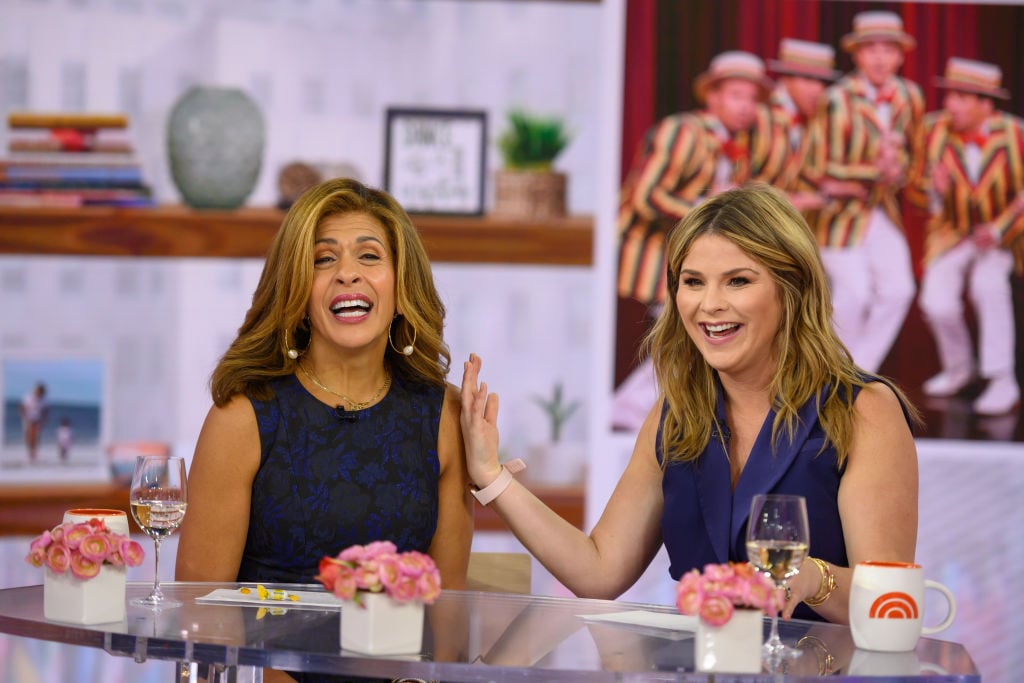 Jenna Bush Hager puts co-host on the spot
Kotb has been manning the news desk at Studio 1A while the majority of her co-hosts are reporting from home. Spending her quarantine time with fiancé Joel Schiffman and their daughters Haley, 3, and Hope, 1, Kotb is still commuting to New York City to maintain the morning news show's presence at 30 Rock.
Hager is on the job from the home front with her husband Henry and three kids – Mila, 7, Poppy, 4, and Hal, 8 months. During the co-hosts' new segment of Unscripted, Hager decided to probe a little on how Kotb's quality time with Schiffman is going under quarantine.
"This could get you into trouble and I'm a little nervous even talking about it out loud," Hager began her question to Kotb. "Have you found anything to be irritating about your partner during this time?"
After much pause and laugher, Kotb simply responded, "I can't say."
'Today' stars get personal
Since Kotb was remaining mum on the topic, Hager shared something she's recently noticed about her spouse.
"Henry and I have been together a long time, and I've never noticed a breathing technique that he has " she told Kotb as she demonstrated an example.
"Ok, that's called rage," Kotb replied with a laugh.
"I'm like, 'Why are you breathing like that?' " the Today co-host said she asked her husband, to which he replied, "'This is how I breathe.' "
Hager went on to discuss noisy eating, where she shared an article on misophonia. "It's an aversion to hearing someone slurp, chew, or crunch," Hager explained, to which Kotb revealed she may be causing that affliction in her fiancé.
"I think I probably give Joel misophonia, because sometimes, I enjoy my food," Kotb revealed. "It's like a celebration. I try to get better because Joel is such a polite eater. He takes a bite, puts his fork down, he chews, he swallows. He's not a fast eater and he's also thoughtful, like he has conversation. I inhale with conversation. The meal is secondary to him. The conversation is the first thing."
With Kotb's impending nuptials coming up, Hager commented that this is a good trial run for the happy couple. "You're about to get married real soonish," she said to Kotb. "This is a real test!"
Fans of 'Hoda and Jenna' share their stories
Fans applauded the co-hosts' transparent banter and weighed in with stories of their own.
"I cannot stand when my husband chews almonds," one fan commented on Instagram. "He even chews a banana loud. Yes his mouth is shut and that makes it grinding."
"My boyfriend told me yesterday that my 'chewing has been annoying lately,' " another wrote. "I just looked at him and said, 'well, it's always been annoying then, you just haven't noticed it until now. 🤷🏻‍♀️' "
"No annoying habits EXCEPT sitting there behavior as if HE IS ON VACATION," another commented.
Others just praised the on-air duo for keeping it real. "I love you two! You always make me laugh 😂" an Instagram follower wrote. "You guys are the best. You put a smile on my face whenever I watch you both!" another posted.
No wonder why these Today stars have such a huge fan base!
Source: Read Full Article