The Wheel of Time has become one of Prime Video's most-watched TV series, and its season 1 finale left viewers eager to know what's next for Moiraine Damodred (Rosamund Pike) and her charges from the Two Rivers. Is The Wheel of Time getting a season 2 on the platform — and if so, what kind of release date can fans expect?
'The Wheel of Time' has been renewed for season 2
Those wishing to know what happens after The Wheel of Time Season 1 finale don't need to worry about whether or not the show will get another run on Prime Video. Amazon Studios greenlit The Wheel of Time Season 2 ahead of its first-season release date. Clearly, the company was optimistic about its performance — rightfully so, it would seem.
Variety recently reported that the fantasy series is among Prime Video's top five original series. In fact, it's the platform's most-viewed property since Hunters.
With that in mind, it's possible the show could even be renewed for a third outing. In the meantime, The Wheel of Time Season 2 is on the horizon. And the new episodes could arrive sooner than expected.
Amazon Studios offers production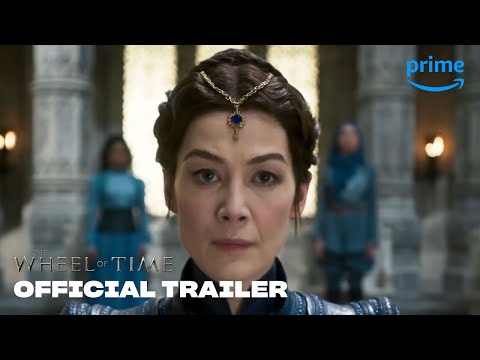 The Wheel of Time began production on season 2 over the summer, and it seems filming is moving along smoothly.
During an interview with TVLine, Vernon Sanders, head of global TV at Amazon Studios, offered an update on production. His words bode well for those hoping to see The Wheel of Time's next outing sooner rather than later:
"Rafe and his team just sent us their first cuts of the first episodes of Season 2, and I cannot wait for the audience to see what we have in store."
Of course, first cuts are far from a finished product. The series will likely undergo editing and more shooting before it truly wraps its work on season 2. Still, it's encouraging that The Wheel of Time's next round of episodes is nearing completion — and it means their release date is likely to fall sometime next year.
'The Wheel of Time' Season 2 release date
With production on The Wheel of Time Season 2 well underway, a 2022 release date seems likely for the new batch of episodes. However, it's unclear when would be a good time to drop the second outing.
Prime Video's The Lord of the Rings prequel is set to debut in September, and Sanders told TVLine that Amazon is trying to be "really thoughtful" about the release timeline for its big genre series.
His words suggest the two shows will come out during different seasons. So, could The Wheel of Time be looking at a spring/summer release date or a winter one? With the show's initial episodes dropping on Prime Video throughout November and December, the latter seems more likely.
The first season of The Wheel of Time is currently streaming on Prime Video.
Source: Read Full Article