According to the Oxford English Dictionary, the definition of a diva is either "a famous female singer of popular music" or "a self-important person who is temperamental and difficult to please." With 150 million record sales, 11 Billboard chart-topping albums and 46 Grammy nominations to her name, Barbra Streisand certainly fits the former. And according to many who have had the pleasure, or perhaps the misfortune, of working with her, the "Yentl" star fits the latter down to a tee, too.
Indeed, long before the likes of Mariah Carey and J-Lo demanding baskets of puppies and all-white dressing rooms on their backstage rider, the "Woman in Love" singer was renowned for putting anyone in her vicinity through their paces. Rumor has it that during one particular visit to Las Vegas' MGM Grand, all employees were even forbidden from engaging in eye contact with Streisand
But what about her shade-throwing abilities? Well, although she's not exactly a match for her sharpest-tongued peer Patti LuPone, the singer/actor is still capable of expressing her contempt at other celebs. Let's look at nine times the funny girl embraced her mean girl side.
Barbra Streisand claims she made Jane Fonda's career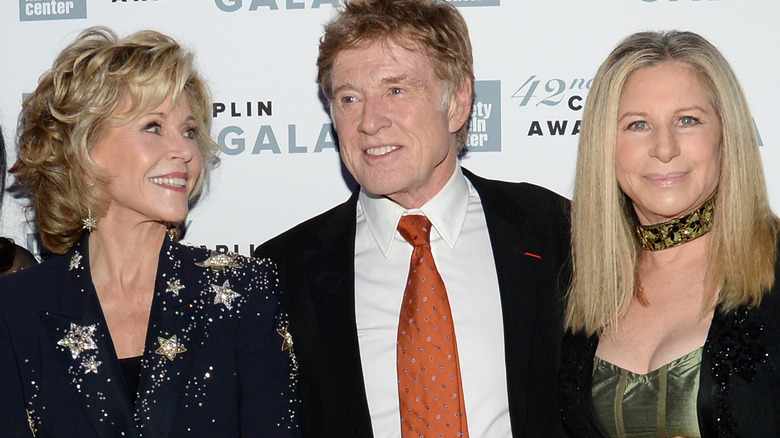 We think Barbra Streisand had her tongue firmly in cheek when she essentially claimed that Jane Fonda owed her entire career to her own castoffs. After all, judging by a blog post uploaded by the "Grace and Frankie" star seven years earlier — in which she recalled enjoying dinner at her fellow A-lister's home — the pair appear to be firm friends.
During a chat with The New York Times in 2016, Streisand argued that Fonda only landed her acclaimed roles in "Julia," "Klute" and "They Shoot Horses, Don't They?" after she turned them all down first. When asked about the quote by Andy Cohen on "Watch What Happens Live" in 2020, Fonda was keen to continue the playful feud.
The multiple Oscar winner responded, "She needs to say things like that to kind of, you know, give her a little boost. You have to feel sorry for her. It's been a tough life. She needs something to boost her up." Streisand has yet to reply to Fonda's spot of teasing, although maybe we should only expect a rebuttal sometime in 2024.
Barbra Streisand believed Walther Matthau was jealous of her talent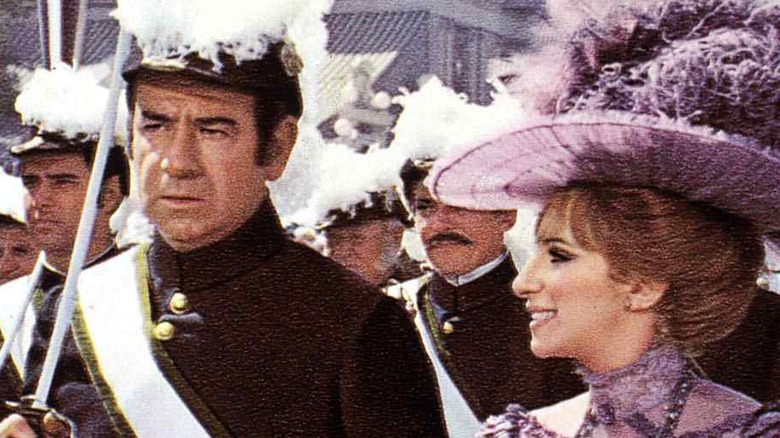 There certainly wasn't any love lost between Barbra Streisand and Walter Matthau on the set of "Hello, Dolly." The two leads, who played matchmaking widow Dolly Levi and her miserly love interest Horace Vandergelder, respectively, were reportedly at loggerheads throughout the filming of the 1969 big-screen musical.
Matthau appeared to take particular umbrage with how his co-star tried to undermine director Gene Kelly. According to "Roadshow! The Fall of Film Musicals" writer Matthew Kennedy, things came to a head the sweltering hot day after the assassination of Robert F. Kennedy when the actor told Streisand, "stop directing the f***ing picture." And things never recovered from that point.
In fact, Matthau later described the actor as a "pip-squeak who didn't have the talent of a butterfly's fart." Of course, the assertive Streisand wasn't going to take such an insult lying down. In retaliation, she told Matthau that the reason for his disdain was that he envied her considerably greater talent. Surprisingly, the pair must have patched their differences up at some point as in 1986, Matthau was spotted in the audience of Streisand's benefit show "One Voice."
Barbra Streisand blames Larry Kramer for the delayed adaptation of The Normal Heart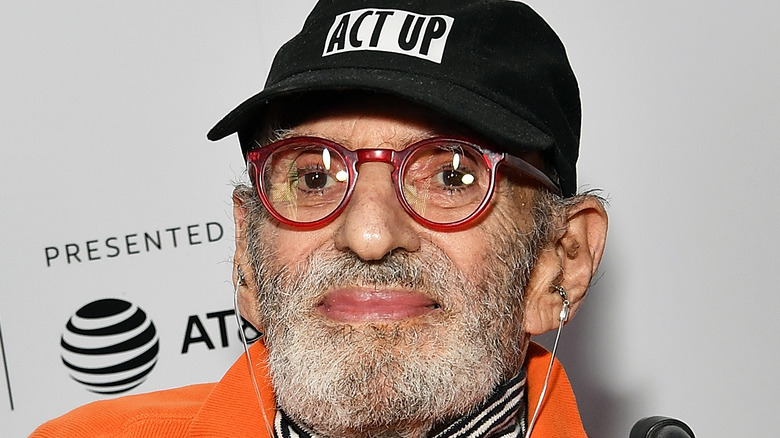 One of Barbra Streisand's longest-running feuds was with the late playwright and LGBT activist Larry Kramer. Back in the 1980s, the actor bagged the film rights to his acclaimed stage play about the early stages of the AIDS epidemic, "The Normal Heart." But despite several attempts, the project never got off the ground — and both parties blamed each other for its failings.
In 2011, Kramer told Entertainment Weekly that he'd objected to Streisand's apparent plans to make herself the star of the show and push the more integral characters to the sidelines. The Oscar winner fought back, insisting that such claims were nonsense while also revealing that her nemesis had turned down an offer from HBO to make a televised adaptation rather than a cinematic one for financial reasons.
Kramer obviously changed his mind as three years later a small screen version — directed by Ryan Murphy — premiered to critical acclaim. But even then, he was still at war with Streisand, telling The New York Times that she'd apparently been uncomfortable with the story's gay sex scenes. The "Guilty" singer once again issued a strong denial having also previously told The Hollywood Reporter that same year, "… I think it's unfair to keep blaming me for the movie not getting made. I worked on it for 25 years, without pay. Larry had the rights for the last 15 years and he couldn't get it made, either. Those are the facts."
Barbra Streisand once bit a co-star's neck on stage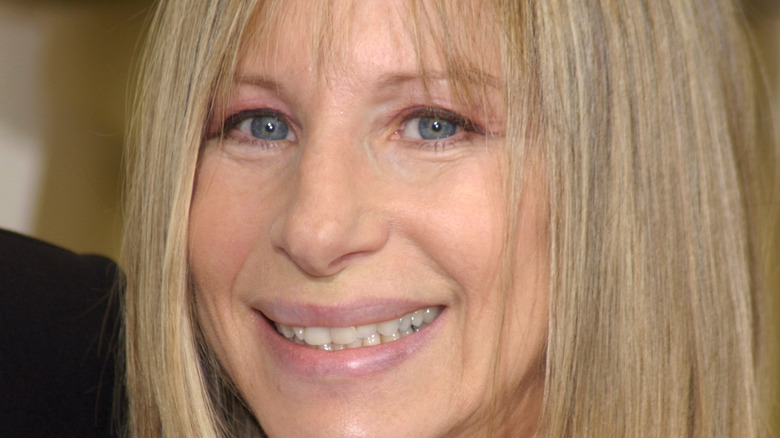 According to biographer James Spada, Barbra Streisand once sank her teeth into a co-star's neck while performing on Broadway. And it wasn't in an adaptation of Bram Stoker's finest, either. The actor was appearing alongside Sydney Chaplin in a production of "Funny Girl" when she decided to get a little vampiric. But there was method to her madness.
The pair had previously embarked on an extra-marital affair but when Streisand decided to call it quits, Chaplin apparently started playing the vengeful ex. In "Streisand: Her Life" (via SFGate), Spada claims that the actor constantly attempted to rile the leading lady while on stage. Referring to one of her most notable features, he'd even whisper the word "nose" into her ear while she was belting out the show's big ballads.
After the actors union failed to act on her complaints, Streisand took matters into her own hands. As the curtain dropped on their characters getting intimate on a chaise longue during one particular show, Chaplin once again resorted to his most-used insult. This time around, however, Streisand reacted by biting his neck. And in a blatant case of karma, her stunned tormenter was also concussed after hitting his head on the curtain's metal bar. 
Barbra Streisand called out an interviewer for mispronouncing her name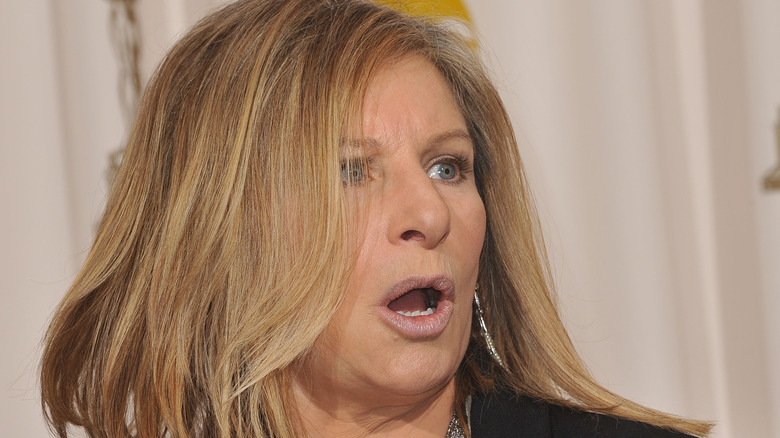 Barbra Streisand has been a fixture of the entertainment world ever since she made her TV debut on "The Tonight Show" way back in 1961. So there's really no excuse for anyone still mispronouncing her name. And the Golden Globe winner certainly didn't let Michael Usher of Aussie news show "60 Minutes" get away with such a faux pas in 2016.
After being introduced incorrectly, a frustrated Streisand took the interviewer to task, asking him, "What's my name? … You said it with a 'z,' you had a double whammy." Usher then made sure he pronounced the second 's' in her surname in a softer manner before Streisand sarcastically responded, "That's it, he's got it! My gosh, he's got it!"
Usher can perhaps take solace in the fact that even Apple's all-knowing virtual assistant Siri also made the same mistake. That same year, the "Meet the Fockers" star told NPR, "She pronounces my name wrong. It's Streisand with a soft 's' like sand on the beach. I've been saying this my whole career." Proving that even billionaire tech giants will quite easily bow down to the Broadway legend, Apple boss Tim Cook quickly ensured that Siri's mispronunciation was corrected in the following update following a phone call with the aggrieved.
Barbra Streisand makes tone-deaf comments about Michael Jackson accusers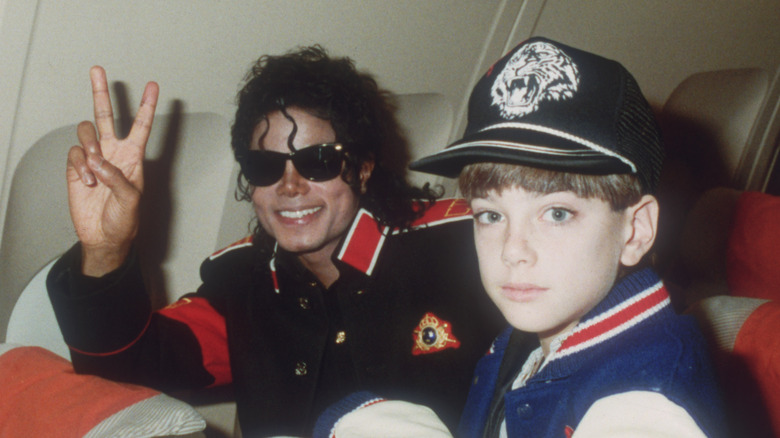 Barbra Streisand certainly didn't do herself any favors with her response to the allegations made by James Safechuck and Wade Robson in the HBO documentary "Leaving Neverland." While the chart-topper told The Times in 2019 that she believes their accusations of sexual abuse at the hands of Michael Jackson, she also admitted to feeling sorry for the accused.
Streisand said, "His sexual needs were his sexual needs, coming from whatever childhood he has or whatever DNA he has." The singer, who once declined the King of Pop's invite to duet on "I Just Can't Stop Loving You," also appeared to undermine the seriousness of Safechuck and Robson's trauma: "You can say 'molested,' but those children, as you heard say, they were thrilled to be there. They both married and they both have children, so it didn't kill them … I feel bad for the children. I feel bad for him. I blame, I guess, the parents, who would allow their children to sleep with him."
After suffering an understandable backlash, Streisand offered two apologies for her comments. She first reiterated to Associated Press that she felt "nothing but sympathy" for the victims. Then on her own website, she insisted she didn't mean to trivialize their experiences: "Like all survivors of sexual assault, they will have to carry this for the rest of their lives. I feel deep remorse and I hope that James and Wade know that I truly respect and admire them for speaking their truth."
If you or someone you know may be the victim of child abuse, please contact the Childhelp National Child Abuse Hotline at 1-800-4-A-Child (1-800-422-4453) or contact their live chat services.
Barbra Streisand chastised Diana Ross for covering her songs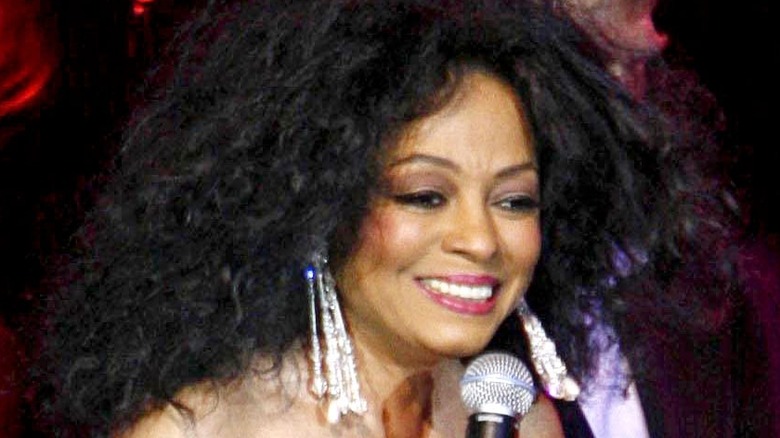 Barbra Streisand and Diana Ross may have been singing from the same hymn sheet when it came to the damaging allegations made against Michael Jackson in the HBO documentary "Leaving Neverland" — they were two of the few stars outside the King of Pop's family who spoke in his defense. But the iconic pair certainly weren't as harmonious back in the swinging Sixties.
According to J. Randy Taraborrelli's Ross biography, the Motown legend actually once idolized her fellow diva. Marvin Gaye is even quoted in the book as saying, "Diana's always measured herself against Barbra Streisand." She may therefore have been thrilled when producer Berry Gordy had The Supremes record their own version of the "Funny Girl" soundtrack ahead of its big-screen adaptation. The original performer, however, wasn't as enthused.
In Ed Ifkovic's "Diana's Dogs: Diana Ross and the Definition of a Diva," Streisand is reported to have said, "I just don't like the idea of her [Ross] singing my songs and with my musical arranger. Who the hell does she think she is? The world doesn't need another Streisand!" And the rest of the world appeared to agree. "Diana Ross and the Supremes Sing and Perform Funny Girl" peaked at a lowly No.150 in 1968, the lowest-charting of the classic line-up's albums.
Barbra Streisand shamed Sean Young for making allegations against Warren Beatty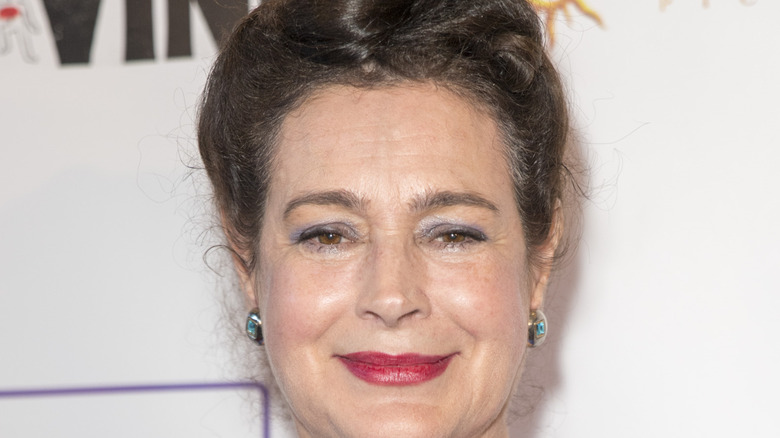 Barbra Streisand apparently wasn't the most sympathetic soul when she auditioned Sean Young for a role in her 1996 film "The Mirror Has Two Faces." Several years earlier, the latter had claimed she'd been sacked from "Dick Tracy" after rejecting director Warren Beatty's sexual advances. But Streisand, who's rumored to have once dated the accused, allegedly wasn't having any of it.
While appearing on "Dudley and Bob with Matt Show" on Texas-based radio station KLBJ-FM in 2017, Young recalled the moment (via Daily Mail) she was shamed for speaking her truth: "When I went to my audition with her she said to me, 'I think it's disgusting that you talked to the press!' And what I had said to the press was that I was harassed. That I was sexually harassed by Warren Beatty. And she told me she thought that was disgusting." The "Blade Runner" star then asked Streisand, "What, am I the only actress who hasn't slept with Warren Beatty in this town? I mean, that can't be true!"
Streisand refuted these claims in an official statement given to Variety: "I have no memory of ever having interviewed Sean Young. I do not condone the harassment of women under any circumstances."
Barbra Streisand has clashed with numerous directors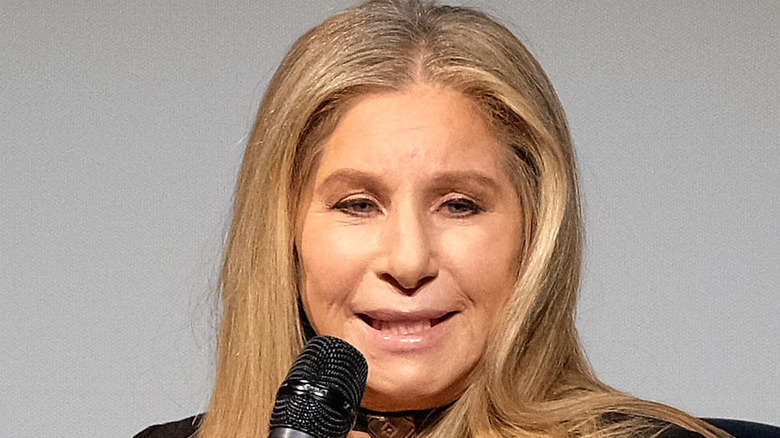 Barbra Streisand has never been one to suffer fools gladly, as several movie directors have found out to their cost. The EGOT winner has clashed with a whole host of filmmakers over the years, most notably on 1976's "A Star is Born" with Frank Pierson.
More than four decades after she starred opposite Kris Kristofferson in the second remake of the musical drama, Streisand still hadn't let her frustrations go. Speaking at the Tribeca Film Festival in 2017, the star recalled her experiences (via Deadline) of working with Pierson on the movie: "That was tough because I was blackmailed into hiring the director. I hired him to write and he said he wouldn't do it unless he directed. I had final cut rights. I told him he could have all the credit, but that he had to allow my vision to be there. He would agree, but then I'd show up and the cameras would be in [the wrong places]."
Streisand seemed to enjoy working with William Wyler a lot more on "Funny Girl" eight years earlier, perhaps due to the fact she was allowed to take more creative control. But the perfectionist still couldn't resist getting a dig in at the director with her wrap party gift: an 18th-century watch bearing the inscription "To make up for lost time." According to his authorized biography, Wyler had taken several days off from the shoot for personal reasons.
Source: Read Full Article