Peter Weber's season of The Bachelor proved to be one of the wildest yet. In the end, we know he chose Hannah Ann Sluss, and he even got down on one knee for her and appeared to end his season as an engaged man. Unfortunately, that wasn't the end of the story. Weber was truly in love with Madison Prewett, but Prewett chose to leave on her own accord. This, of course, was revealed to Sluss later on, and she left Weber.
Now, Sluss is inspiring women everywhere to maintain worthwhile relationships and know their worth. And she's providing her social media followers with advice on how to move forward. It seems Prewett appreciated Sluss' post about "forgiveness," too. Here's what happened.
Hannah Ann Sluss said her brief engagement to Peter Weber was 'miserable'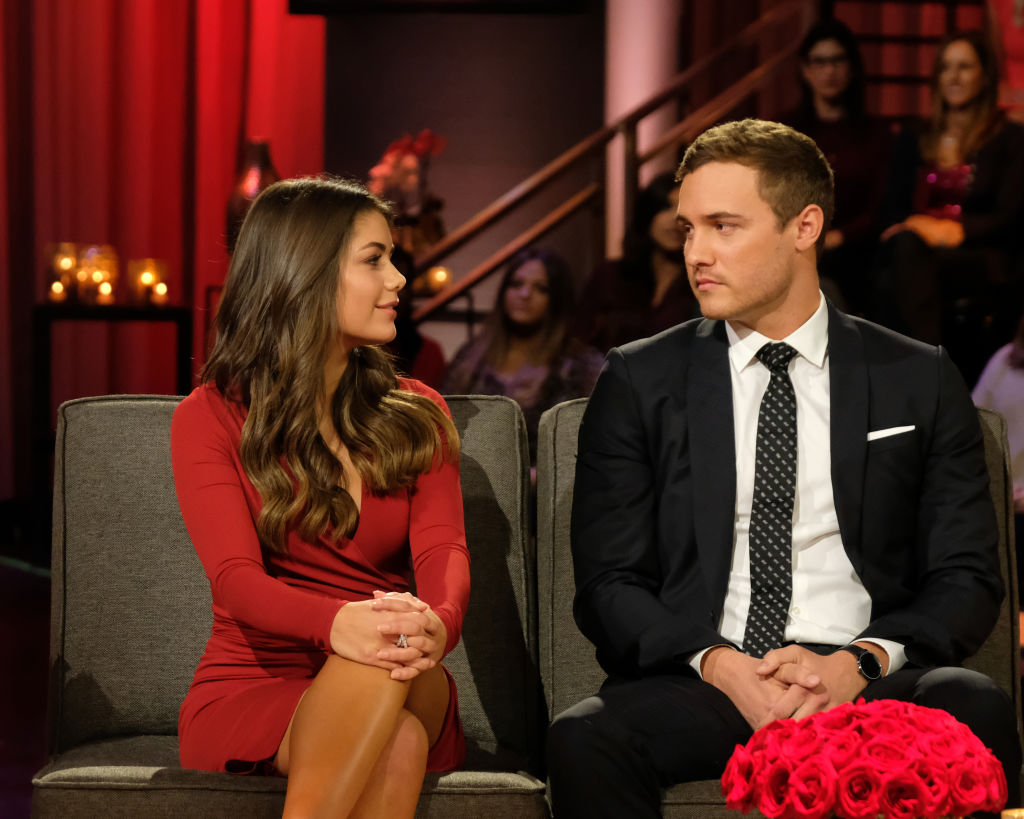 Fans saw Sluss and Weber's breakup play out on screen. And she later confronted him again during the reunion show, as she explained that their relationship actually involved "three women" — Hannah Brown, who he claimed he needed closure with, Prewett, and herself. Now, Sluss is giving interviewers everywhere even more of the juicy details of their short engagement.
"I knew it was going to be a tough conversation. And we both even said we will move past this, we will overcome this as a couple," Sluss told the Bachelor Happy Hour podcast. In the end, though, she noted she was happy to be done with the relationship.
"Gosh, I was miserable with him. Once January started because of the whole wishy-washy-ness started," she noted. "And I was just like, 'I need someone who knows who they are, who knows what they want, who's not going to be with someone just because their mom told them to.'"
She's now offering her advice for moving on with her Instagram followers
Sluss has done a lot of internal work to move forward with grace. And she's now extending a helping hand to her social media followers.
"For the next 10 days, I will be sharing a series of post called 'Finasco to Fabulous' to share 10 ways that helped me through my difficult experience," she told her Instagram followers on March 17. "Feel free to share with a friend in need. If my pain helps anyone else then it will be worth it!"
Since then, Sluss has shared many helpful tips with her followers. From eating healthy and nourishing meals, to cultivating positive self-talk, to learning how to rebuild trust so new relationships can blossom, Sluss has covered it all. And she's even proven she's ready to move forward from Weber once and for all by scrubbing her Instagram clean of any photos of the two of them.
Madison Prewett commented on Sluss' post about forgiveness
So, where do Prewett and Sluss stand? It seems there's no beef between the ladies despite the hardships of their past. And we know neither woman is associated with Weber at this time.
The two have been commenting on each others' Instagrams from time to time, and Prewett also approved of Sluss' post about forgiving and moving forward. "Forgiveness Moves You Forward – When we are hurting, it's easy to believe the lie that holding resentment is our only and best option," Sluss captioned the photo showing her sitting on some unpacked boxes from her move. "Forgiveness is a choice, and most often times, a daily choice."
To that, Prewett commented with an emoji of two hands raised to show celebration and success. And Sluss replied back with a heart and a kissing face.
It's great to see these ladies coming together after all they've been through. Now, we're all wondering who Weber will date next (and if the rumors of a romance with Kelley Flanagan are true). We'll have to wait and find out!
Check out Showbiz Cheat Sheet on Facebook!
Source: Read Full Article