Survivor: Winners at War kicked off the eighth episode with the merge as well as an Edge of Extinction challenge for one castaway to get back in the game. Another player was sent over to the Edge during Tribal Council, but again it wasn't Tony Vlachos. Fans have strong feelings about Tony and why he hasn't had any votes against him so far this season.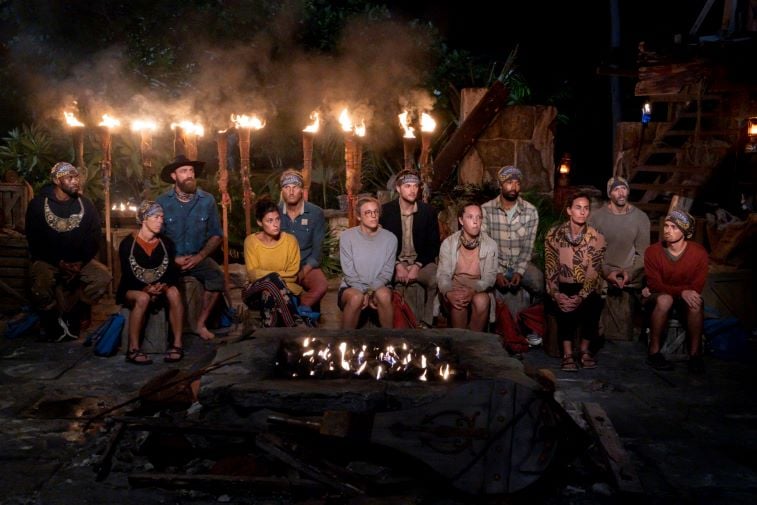 What happened to Tony so far on 'Survivor: Winners at War'?
The 45-year-old police officer from Allendale, New Jersey, started Survivor 40 on the Dakal tribe. He immediately allied with fellow police officer Sarah Lacina, to resurrect their "Cops R Us" team.
Tony knew going into the game that he could not search for hidden immunity idols or make it seem like he was playing with a lot of strategies this time around. So far, he displays hysterical antics during almost every episode. He built an unsteady ladder to fetch coconuts and helped Sandra Diaz-Twine to slay a shark.
He brought back his Spy Shack once, but luckily Kim Spradlin-Wolfe and Sandra knew to expect these antics from Tony. They weren't suspicious of him. He also votes with his tribemates weekly and isn't making any game-changing moves, yet.
Why do fans believe the castaways are not voting Tony out of 'Survivor: Winners at War'?
Tony went to Tribal Council five times so far, out of the 10 total. Yet, his name was not written down at all.
"I love Tony," tweeted one fan. "I didn't before, but this season he is the comic relief, and he has calmed down considerably."
Fans feel that Tony is trying to have more fun this season and keep the target off of his back. He has only had a few moments of paranoia, but luckily Sandra and Kim were there to ground him.
Many viewers think he is still in the game "because he has not been running around looking for idols. He has shown amazing restraint."
In Tony's previous season on Survivor: Game Changers, he went straight to hunting for immunity idols after arriving at camp. He also quickly began forming an alliance against Sandra and digging a spy bunker. The cop was voted out after only six days because of his erratic behavior and desire to make massive moves so early in the game.
Fans feel he learned his lesson and is working hard to play a better, more low-key game.
How do fans feel about Tony not receiving any votes in 'Survivor Winners at War'?
Many fans are shocked that Tony is still in the game. They expected him to be voted out early on because he is a considerable threat. However, others are excited that he made it this far.
"I know it's still early, but I'm in love with the idea of the only two-time winners being Sandra & Tony — two of the wildest winners ever," tweeted another viewer
Other fans joked that Tony's "spy shack is working," and it's "mind-blowing," that he is still in the game. 
"Tony is playing his best game to date," added another fan.
Fans would love to see Tony take home the $2 million prize on Survivor: Winners at War. The show airs Wednesdays at 8 p.m. on CBS.
Read more: 'Survivor 40: Winners at War': Last Night's Episode Revealed Why Tony Won and Russell Never Will
Source: Read Full Article