Like most soaps, General Hospital knows how to insert lots of surprising twists and turns to keep viewers guessing, especially when it comes to family ties.
The latest drama involves Nina Reeves, and her long-lost daughter. The character, and viewers, may soon find out her identity. 
Nina Reeves has a long-lost daughter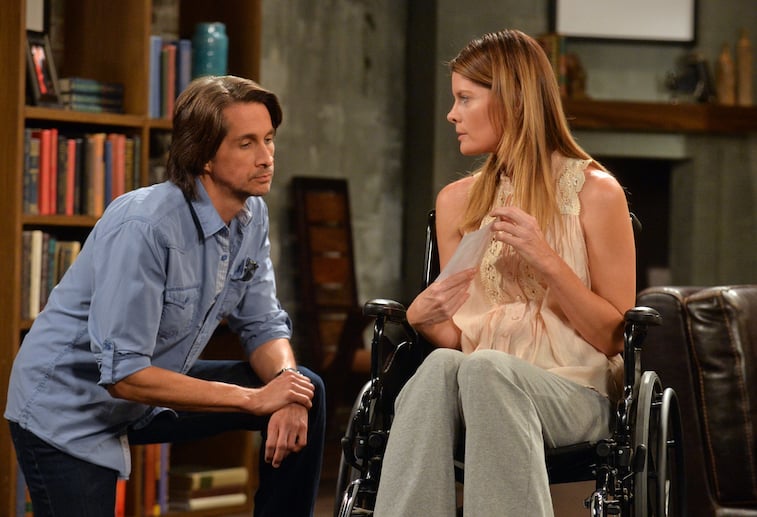 Nina became pregnant with her first husband, Dr. Silas Clay. But when the marriage fell apart, Nina's mother poisoned her to abort the baby, an effort to break any ties between Nina and her ex.
Unfortunately, her effort also put Nina into a coma for 20 years. During that time, her mother took the baby, a girl who had survived after all, and gave it for adoption. When Nina finally awoke, she was given half of a locket. Her daughter, wherever she was, supposedly has the other half. 
Now, after several false leads, General Hospital spoilers indicate that Nina may finally find her long lost daughter. Fans have two main theories about the identity of the now-grown child.
Could Willow Tait be Nina's daughter?
Many viewers think that Willow Tait could be Nina's daughter. They already know each other because Willow is the schoolteacher for Nina's step-daughter, Charlotte. Willow was raised by Harmony and manipulated into doing terrible things by her.
But fans know that Harmony is only her adoptive mother, although Willow herself doesn't know this.
In a strange twist that may support this theory, Nina is extremely rude to Willow whenever they interact. Is this because she recognizes something in Willow and it scares her?
Viewers voiced their support for this theory on Twitter. "I do think willow will turn out to be her daughter otherwise it seems odd they are giving these two scenes…," one fan wrote.
"I really hope Nina can get through to Willow. I like this potential mother-daughter duo," another person wrote.
Katelyn MacMullen, the actress who plays Willow recently gave her thoughts about this theory to Soaps In Depth. "That would be insane," she said.. "It would be a huge twist… except people are expecting it, right? Because why do Willow and Nina hate each other so much? It'd be cool!"
If Willow does end up being Nina's daughter, they'll have to really work on their relationship after all the damage that's been done from Nina's coldness toward her.
But under her tough exterior, Nina does really seem to care for the daughter she lost. So if Willow ends up being that daughter, Nina would probably be quick to reconcile. 
Is the DNA wrong? Could Sasha Gilmore be Nina's daughter?
Another possibility is Sasha Gilmore. She was paid by Nina's husband Valentin to pretend to be her long-lost daughter, but DNA tests proved that they weren't actually related.
Still, some fans believe there could be some twist that reveals Sasha is actually her daughter after all. Even MacMullen though that could be the case. In fact, she offered up the possibility that they could both be Nina's daughters. 
"What if [Sasha and Willow] could be twins?" MacMullen told Soaps In Depth. "Who knows how it's going to play out? There are so many possible outcomes. But Sofia [Mattsson- the actress who plays Sasha] and I want a storyline together."
There's also support online for the Sasha theory. "I hope Sasha turn out to be Nina's daughter," one fan tweeted.
Of course, it could be neither of these women. Other characters who have been suggested as Nina's long-lost daughter are Kiki Jerome, Nelle Benson, Amy Driscoll, or a completely new character. But none of these options seem to make as much sense, or have as much viewer support, as Willow and Sasha.
Fans should find out the answer soon, which is great because most believe this has been a mystery long enough. 
Source: Read Full Article