Though Darcey Silva recently announced her engagement to new beau Georgi Rusev, fans were worried that the relationship was over after the 90 Day Fiancé star left a number of cryptic messages on one of Rusev's Instagram posts. Now, Darcey is shutting down all rumors of a broken engagement.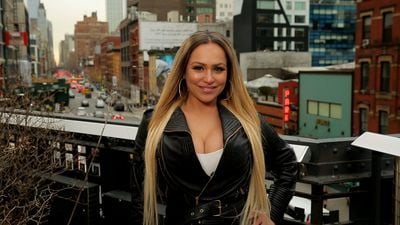 Darcey Silva and Georgi Rusev's relationship
Fans of 90 Day Fiancé have seen Silva fall and fail in love time and time again. But this time with Rusev felt different for Silva.
"Honestly, I am really, really happy in my life right now," she recently told Entertainment Tonight. "I felt like I've moved on from the past, taking time to heal myself inside and out, and I was ready for love again. I have an open heart and he's an amazing guy. He's someone who has a different demeanor than the last two, thank God. For me, I feel like I get to honor myself and say what I want in a relationship. He's very patient with me, calm and so understanding and we have a lot of fun. I mean, let alone, he's a hot, sexy Bulgarian guy, who wouldn't want that?"
Despite having a few rocky moments in their relationship, Silva and Rusev got engaged in June but they didn't go public with the information until Octoer. When they first announced the engagement, the pair seemed solid.
"I've always wanted a partner in life where you can raise each other up and not shoot each other down. I decided the next relationship I got in, I would say what I want," Silva told People. "We're able in the end to work it all out, rise above and stay strong for the love that we know we share because our future is so great."
Rusev shared the same sentiments, saying that the two had each other's backs.
Rumors of a breakup
Rumors of trouble in the relationship started after Rusev posted a picture of his and Silva's first date to Instagram.
Instead of leaving a comment about how great the date was, Silva pointed out her body language in the photo.
"Well body language tells all," she wrote in a comment captured by Soap Dirt. "I tried and rather not be in this picture."
She, then, made matters worse by asking that the picture be removed.
"Please, take me off your page. Thank you," she wrote. Rusev later deleted the photo.
The social media feud didn't stop there. The two even unfollowed one another, making a breakup seem almost inevitable.
According to ScreenRant, Silva also went back and edited some of her Instagram captions to reflect what was happening. On a selfie, Silva changed the caption to, "I deserve the best and will not settle!"
She also posted a picture of herself with her daughter Aniko and captioned it, "No man will ever take me down." The caption has since been changed to "My angels are here! My beautiful girls we are all love, protected, and golden."
Darcey Silva is still engaged
After the awkward comments on Rusev's post, fans were sure that he and Silva were not on good terms, if not fully broken up. But Silva went back and changed her shady Instagram captions and posted a new picture of her and Rusev all loved up to prove that they were still together.
She captioned the photo of her and Rusev showing off her ring with, "true love and soulmates forever."
Source: Read Full Article