Don't let the exotic-sounding name of this recipe—Moroccan Lamb Stew—freak you out.
"Moroccan" just means that you throw in some exciting (though easy-to-find) spices. Plus, lamb is a powerhouse meat that provides more than 30 grams of muscle-building protein per serving.
Add some chickpeas, onions, olives, and apricots for 10 grams of gut-filling fiber and you have the perfect no-hassle, slow-simmered end-of-winter warmer.
One cup of cooked lamb roast serves up 30-plus grams of protein for 263 calories, which is comparable to beef. It's also a good source of iron and vitamin B12, both of which help your muscles function.
This recipe calls for "stew meat." That basically means cubed pieces of meat from various parts of the animal.
You could buy lamb roast, or lamb loin, or lamb chops. But then you'd have to remove the bones. Stew meat saves you time.
This recipe takes no longer to prepare than your usual pot of chili and tastes nothing like your usual pot of chili.
And that's a very good thing.
Moroccan Lamb Stew
What You'll Need:
2 Tbsp canola oil
2 lb cubed lamb stew meat
2 garlic cloves, minced
1 large yellow onion, diced
2 tsp ground coriander
2 tsp ground cumin
1 cinnamon stick
1 (15 oz) can chickpeas, rinsed and drained
1 cup dried apricots, chopped
1/2 cup pimento-stuffed green olives
1 (15 oz) can diced tomatoes
2 cups beef broth
How to Make It:
1. In a large Dutch oven over medium-high heat, heat the oil. Add the lamb, season well with salt and pepper, and cook until well browned, 10 to 15 minutes. Transfer to a plate lined with paper towels to drain.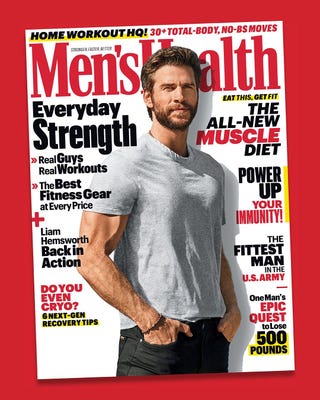 Subscribe to Men's Health

SHOP NOW

2. Add the garlic, onion, and carrots and saute until the onion softens, about 5 minutes. Add the coriander, cumin, and cinnamon stick. Cook until fragrant, about 30 seconds. Add the chickpeas, apricots, green olives, tomatoes (with their juices), reserved lamb, and beef broth. Bring to a boil over high heat, and then reduce the heat to medium low and simmer until the lamb is very tender, 60 to 90 minutes. Discard the cinnamon stick. Taste and adjust seasoning, if necessary. Feeds 6
Nutrition per serving: 495 calories, 38g protein, 46g carbs (10g fiber), 16g fat
Source: Read Full Article