"They're saying that I got my nose done," said Leechin. "That I've had an eyelid lift, a surgical lip lift, and that I've just, like, altered my entire face, my jaw, everything."
Taylor Swift lookalike Ashley Leechin — AKA It'sJustAshley — is setting the record straight on rumors she's had plastic surgery to achieve her striking resemblance to the pop star.
As shown in a new video shared exclusively with TooFab, the TikTok star — who is known for her resemblance to Swift — addressed the speculation by undergoing an extensive examination by Dr. Daniel Barrett, a board-certified celebrity plastic surgeon in Beverly Hills, to determine whether or not she's had plastic surgery.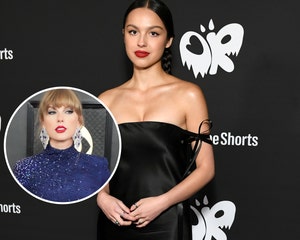 Olivia Rodrigo Reacts to Theory 'Vampire' Is About Taylor Swift
"Hi. My name is Ashley, better known as It'sJustAshley. I've been told that I've gotten plastic surgery when I haven't," Leechin began. "I've done Botox, and I've done filler. So those are the main two. So I've been told a lot that my life does revolve around Taylor, that I cosplay her every day, but I don't feel that I cosplay her every day. I just wear makeup."
"They're saying that I got my nose done," she told Dr. Barrett. "That I've had an eyelid lift, a surgical lip lift, and that I've just, like, altered my entire face, my jaw, everything."
Dr. Barrett said that since he performs a wide variety of procedures, he knows the "hallmarks" of many plastic surgeries, noting that "even if done extremely well under a very close examination, we can actually find if there's actually any scars that might suggest that."
During the examination, Dr. Barrett looked for signs and "noticeable scars" to see whether or not Leechin had a jaw reconstruction surgery, a facelift, a brow lift, cheek implants, buccal fat removal, and/or a rhinoplasty, better known as a nose job.
When Dr. Barrett examined her nose, Leechin noted that she's had a septoplasty, a minor procedure that corrects a deviated nasal septum. The surgery is medical, not cosmetic, like a rhinoplasty.
Unable to render YouTube Video.
"People say she might've had a rhinoplasty. We'd be able to tell by having a look. And the bridge of the nose right here, the columella. … And if you lift your nose up, don't see any scar there, okay. So it doesn't look like there's an open rhinoplasty," he said during the inspection. "Let me take a quick peek inside with just a little Q-tip. We'd be able to see if she had a closed rhinoplasty as well by looking for scars here. Okay, and I don't see any there. Okay, so there's no evidence of any type of rhinoplasty. We can also feel the nose, an operated nose feels different than a non-operating nose. All the cartilage is super soft."
After the examination, Dr. Barrett concluded that Leechin has not had any sort of plastic surgery.
"I don't see any signs of plastic surgery work here, you guys. She admits to a little bit of Botox and a little bit of filler, which is completely common, but in terms of plastic surgery, it's all-natural."
Following the plastic surgeon's confirmation that she hadn't had work done, Leechin reflected on the experience to the camera.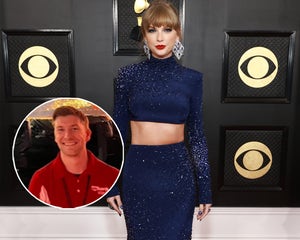 Taylor Swift Eras Tour Security Guard Claims He Was Fired After Asking Fans for a Photo
"So yeah, I have never had any plastic surgery. I've never had anyone cut into my face before, but that's not necessarily bad," she said. "I am pro plastic surgery. If you wanna do that and enhance your face or make yourself look more, I mean beautiful in your own eyes, make you more confident, I say go for it."
Leechin — who is also a nurse — has over 1.6 million followers on TikTok, and often posts content stemming from her close resemblance to Swift.
However, despite finding success on the app, she recently was met with backlash — particularly by Swifites — after she participated in a "social experiment" and prank, in which she impersonated Swift in public.
Leechin — who teamed up with YouTuber Vic In the Game — dressed up as Swift and was escorted by security guards while walking around The Grove in Los Angeles, a popular shopping center, where she was swarmed by fans.
After many Swifties criticized the prank, Leechin addressed the controversy in a TikTok video.
The mother of two said the goal of the "social experiment was to live a day in the life of a celebrity — to see what would happen if I went out looking like Taylor Swift."
Waiting for your permission to load the Instagram Media.
Instagram Media Unavailable
She also claimed the prank was "not to be malicious" and "was not to mock anyone" after Swifties accused her of the latter as Swift — the real one — was mobbed by fans at Jack Antonoff and Margaret Qualley's wedding around the same time.
"The timing was horrific with everything that was happening," Leechin said. "I don't follow Taylor's every move, so with everything that happened, I was definitely late finding out a lot of that stuff."
She also slammed the hard-core Swift fans, claiming that she had a "positive" encounter with those who approached her in person and realized she was not Swift, while she was treated completely differently online.
"In this fandom, I do feel like there is a possessiveness over Taylor. I feel like that possessiveness can get dangerous, and it did show, it really did," Ashley said. "I had such a positive experience in person, and then, of course, online, you get a whole different beast."
"There's a difference between a Taylor Swift fan — you can love her music, you can love her as a person, you can look up to her — and then there are Swifties," she shared on TikTok. "They are completely two different groups."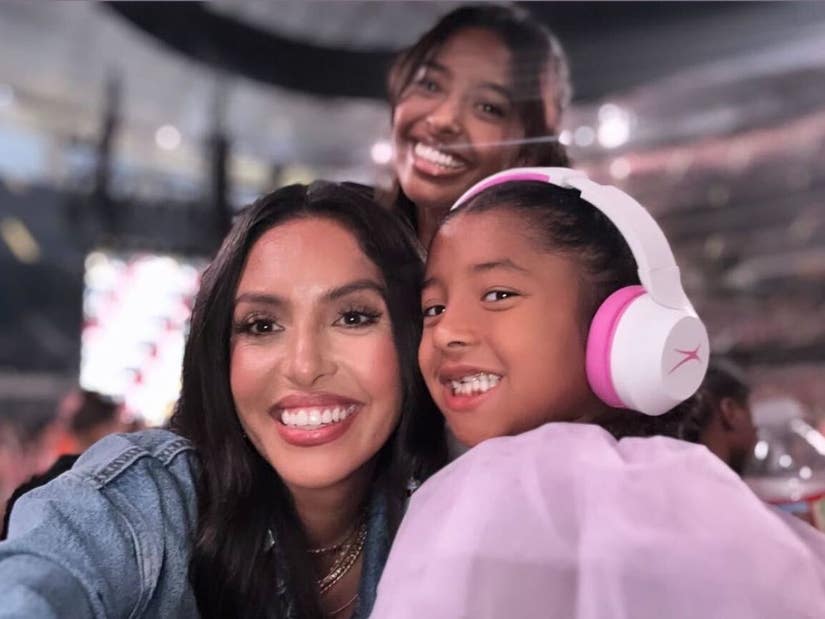 Source: Read Full Article