video
Egg prices skyrocket across the country
FOX Business correspondent Lydia Hu has the latest on the impact of the avian bird flu on 'America's Newsroom.'
American consumers who regularly buy chicken eggs have noticed the food staple has risen in price substantially, and some have turned to social media to express their sticker shock.
While prices vary throughout the country, photos of 12- and 18-count egg cartons being priced around $8 have gone viral in the last week.
"Spiking egg prices are the result of a perfect storm," Andrei Rjedkin, a NYC-based junior economist at food industry market information publisher, Urner Barry, told FOX Business. 
EGG PRICES RISE MORE THAN 64% IN SOME STATES
"[There are] a confluence of factors that are sending prices sky-high," he continued.
Energy prices reportedly hit "record highs in 2022" and brought up "the cost of nearly everything," including production and transportation for finished products, according to Rjedkin.
"The cost of [chicken] feed – namely corn and soybeans – have increased 18.9% and 13%, respectively, from 2021 to 2022," Rjedkin added. "Next, the average median wages for workers in the bottom income ladder have seen a 6.8% hike over 12 months, impacting labor costs."
The rise of the highly pathogenic avian influenza has also impacted about 13% of egg-laying hens, which resulted in a 5.3% decrease in year-over-year egg production in November, according to Rjedkin. 
"All of these factors converge to result in a staggering 247% increase in the wholesale cost of a dozen eggs from $1.47 in January 2022 to $5.09 last month," Rjedkin explained.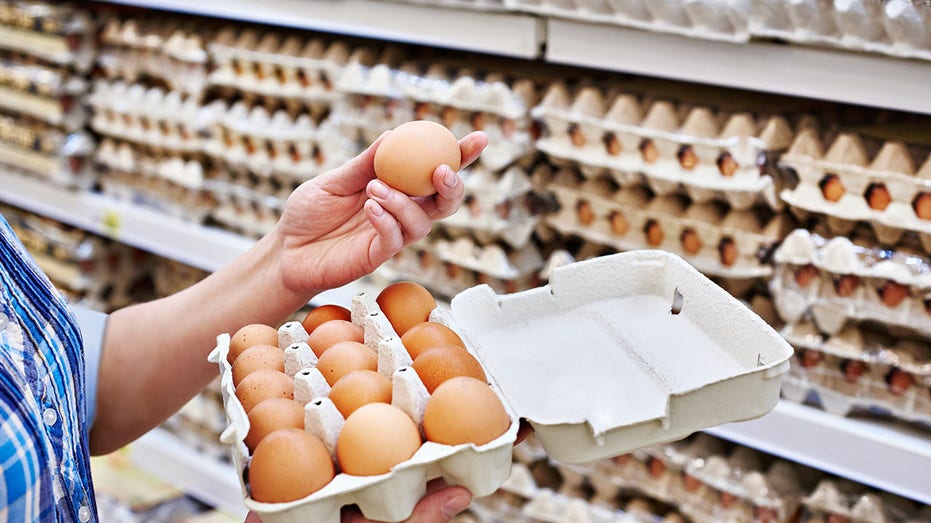 In the hands of a woman packing eggs in the supermarket (iStock / iStock)

As of December 2022, the "U.S. city average" cost for a dozen large Grade A eggs reached $4.25, according to the Federal Reserve Economic Data (FRED), a database maintained by the research division of the Federal Reserve Bank of St. Louis, which sourced pricing data from the U.S. Bureau of Labor Statistics.

US BORDER AUTHORITIES REPORT INCREASE IN EGG SMUGGLING ATTEMPTS AS POULTRY PRICES SOAR AMID INFLATION

FOX Business found that the reported $4.25 average egg cost from December 2022 is the most up-to-date figure the national bank has published.

The Weekly Retail Feature Egg Index published by Urner Barry suggests eggs are priced around $4.78 during the week of Jan. 16, 2023.

Industry insiders at United Egg Producers, an agricultural cooperative that represents the interests of American egg farmers, report that a single laying hen produces 296 eggs per year on average.

Scott Lieberman, a former managing editor of The Points Guy – a Bankrate-owned personal finance website – and founder of Touchdown Money, a new lifestyle-focused personal finance guide, told FOX Business that Americans eat about 286 eggs per year.

Similar fast-moving consumer goods reporting published by Statista, an online market and consumer data platform, suggests Americans ate 288 eggs per capita in 2022.

KROGER CEO SAYS HALF ITS CUSTOMERS ARE UNDER FINANCIAL STRAIN 

"A family of four can expect to pay $240.88 more for a year's worth of eggs in 2023 compared to 2003," Lieberman of West Palm Beach, Florida, said. "This is adjusted for inflation."

As chicken egg prices continue to fluctuate with the national economy, here's a quick look at the year-over-year cost of eggs from January 1980 to January 2022, according to pricing data from the U.S. Bureau of Labor Statistics.
U.S. city average price for a dozen eggs per (Grade A, Large) year-over-year
January 1980: $0.88

January 1981: $0.94

January 1982: $0.93

January 1983: $0.82

January 1984: $1.30
Red Star chickens roost in their coop Tuesday, Jan. 10, 2023, at Historic Wagner Farm in Glenview, Ill. Anyone going to buy a dozen eggs these days will have to be ready to pay up. That's because a lingering bird flu outbreak, combined with soaring f (AP Photo/Erin Hooley / AP Images)

January 1985: $0.75

January 1986: $0.90

January 1987: $0.86

January 1988: $0.76

January 1989: $0.94

PENNSYLVANIA COUPLE STARTS 'RENT THE CHICKEN' BUSINESS AMID HIGH EGG PRICES IN STORE

January 1990: $1.22

January 1991: $1.11

January 1992: $0.93

January 1993: $0.90

January 1994: $0.92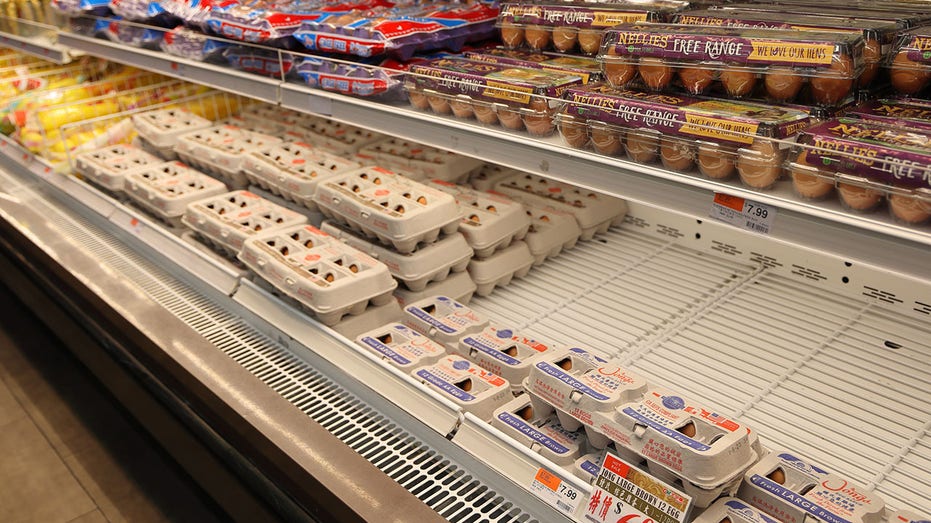 Half-empty shelves of eggs are seen at a supermarket on January 8, 2023 in Los Angeles, California. (I RYU/VCG via Getty Images / Getty Images)

January 1995: $0.88

January 1996: $1.16

January 1997: $1.15

January 1998: $1.12

January 1999: $1.05

EGG PRICES AT AN ALL-TIME HIGH

January 2000: $0.98

January 2001: $1.01

January 2002: $0.97

January 2003: $1.18

January 2004: $1.57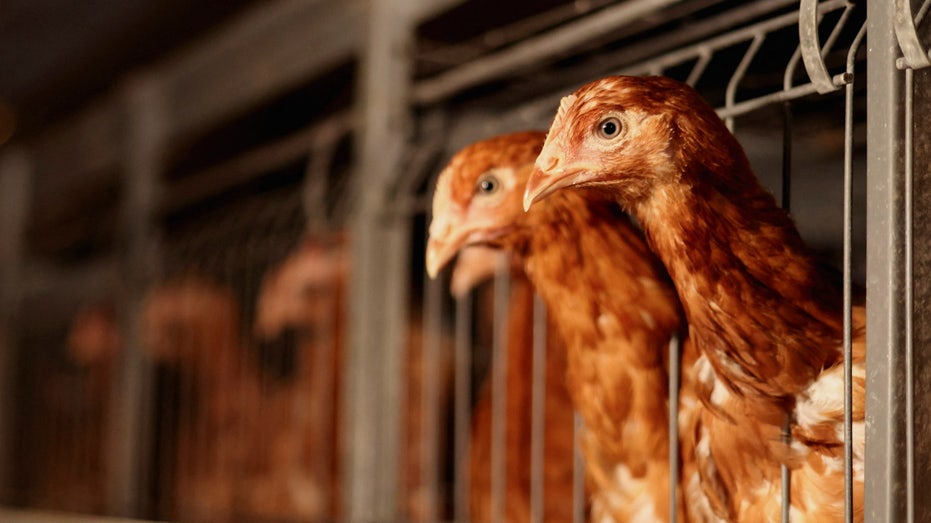 Chickens sit at Fresh Eggs Farm as egg prices have risen in the market due to higher feed prices after Russia's invasion of Ukraine, in El-Menoufia governorate, north of Cairo, Egypt, September 6, 2022. (Reuters/Mohamed Abd El Ghany / Reuters Photos)

January 2005: $1.21

January 2006: $1.45

January 2007: $1.55

January 2008: $2.18

January 2009: $1.85

GET FOX BUSINESS ON THE GO BY CLICKING HERE

January 2010: $1.79

January 2011: $1.81

January 2012: $1.94

January 2013: $1.93

January 2014: $2.01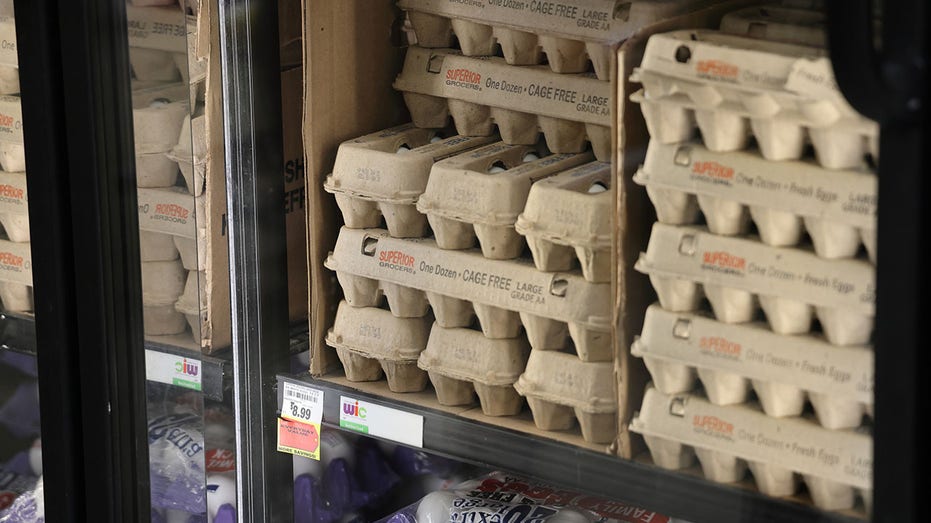 Cartons of eggs sit in a freezer at a supermarket on January 8, 2023 in Los Angeles, California. (I RYU/VCG via Getty Images / Getty Images)

January 2015: $2.11

January 2016: $2.33

January 2017: $1.60

January 2018: $1.77

January 2019: $1.55

CLICK HERE TO READ MORE ON FOX BUSINESS

January 2020: $1.46

January 2021: $1.47

January 2022: $1.93

Source: Read Full Article