Singer Ariana Grande has collaborated on a new single, "Rain on Me," with Lady Gaga. The song and the music video dropped on May 22, 2020, and have already received a lot of attention. Her fans (known as Arianators) were quick to point out that she is wearing her hair down at one point in the video. Here's why that's significant.
Ariana Grande is known for her signature ponytail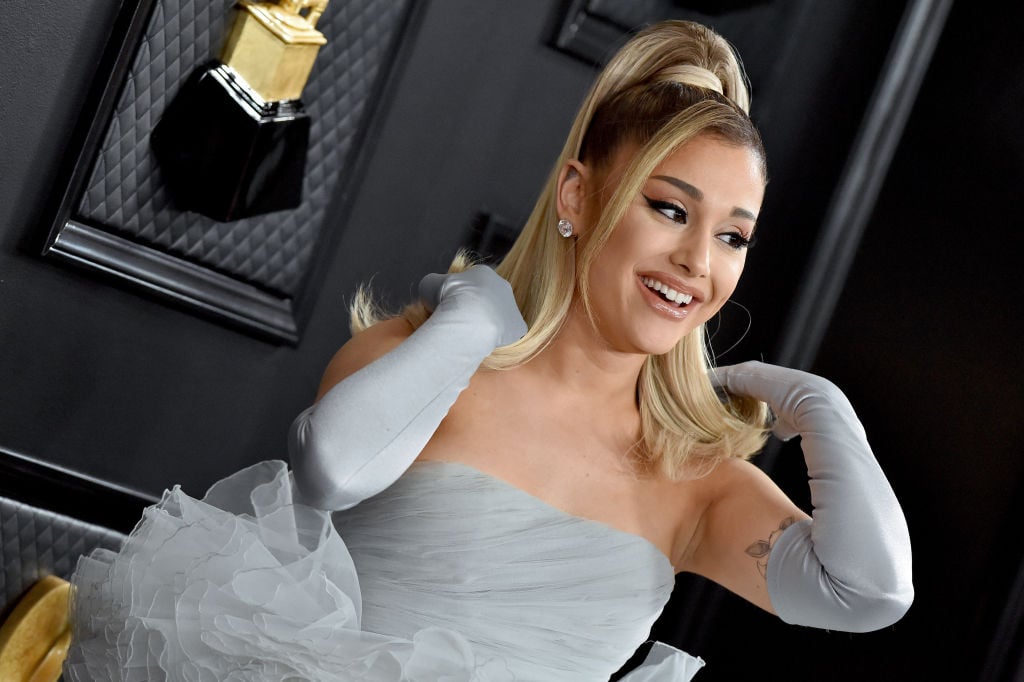 Since the early days of her career, Grande has been known for two things: Her distinct voice and her ever-present hairstyle. Though many knew her first as an actor on the Nickelodeon sitcom Victorious, she looked a bit different when she broke out as a pop star with her 2013 album Yours Truly.
Instead of the bright red hair of her character, Cat Valentine (who she reprised in the spinoff series, Sam & Cat) Grande's hair was a very long, dark brown. And always fixed in a high ponytail. In more recent years, she's switched back and forth to blonde — but again, almost always in the same hairstyle.
It began because of damage to her hair from 'Victorious'
RELATED: 'Victorious' on Netflix: Ariana Grande's Best Moments From The Show
As she became more famous, Grande addressed the comments about her hairstyle. In a 2014 Facebook post, she explained that her natural hair was "completely destroyed" due to the years of bleaching and dying it in on Victorious. (She was able to wear a wig on Sam & Cat.)
"My real hair is back to brown and I wear extensions but I wear it in a ponytail because my actual hair is so broken that it looks absolutely ratchet and absurd when I let it down," Grande explained. "It's all that works for now (AND I'm comfortable for the first time in years)."
Years later, the ponytail has persisted
Though it's been more than six years since that post and Grande's hair has grown back, the ponytail is still present. Sometimes, she mixes it up and wears it down, or, more often, in a half ponytail. Brown (or, for a time there, bleach blonde) extensions are still a regular part of her look.
So what does Grande's hair really look like? In recent months, she's shared shots of her natural, curly hair, which is a little past her shoulders and brown with some blonde highlights. The April 2020 post (above) got a lot of attention from Arianators.
Grande stars in 'Rain on Me' music video with Lady Gaga
RELATED: Are Lady Gaga and Ariana Grande Friends?
In addition to showing off her natural hair growth, Grande has been keeping busy while sheltering in place. She released the collaboration "Stuck with U" with Justin Bieber, and quickly shifted to promoting her next release: "Rain On Me."
The single, off Lady Gaga's upcoming album Chromatica, premiered on May 22, along with an accompanying music video. Recorded prior to the pandemic, it's release date coincided with an important anniversary for Grande: That of the Manchester Arena bombing in 2017.
Fans point out that her hair is down in the 'happy' side of the reflection
The concept of the video is that there are two sides to every situation — you can be broken about heartbreak and tragedy, or you can embrace it. The shot flips back and forth between the happy side of the reflection and the angry one. And fans noticed there's one major difference between the two.
"Stefani got Ariana out of the ponytail! The power she has," wrote one Twitter user, using Gaga's real name. "Now keep ur hair down for the next era," wrote another on Twitter. It doesn't seem likely that Grande will ditch her signature hairstyle forever, but perhaps there are more free-flowing hair moments in her future.
Source: Read Full Article