Save articles for later
Add articles to your saved list and come back to them any time.
As one of Sydney's most recognisable faces, Luna Park has had some facelifts over the years.
There have been eight faces gracing the entrance of the harbourside amusement park since its 1935 opening. From the first scary-looking Art Deco facade, made from chicken wire, plaster and canvas, through to the current 1995 fibreglass face which was manufactured in Brisbane and assembled in Homebush before it was floated by barge to Milsons Point.
But since it was added to the NSW State Heritage Register in 2010, other than a few licks of paint, touch-ups of the eyelashes and tooth replacements, there have been no additions or alterations to the park's famous face.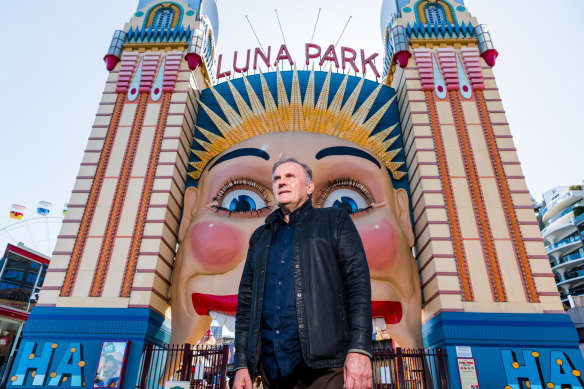 Sam Marshall, founding member of the Friends of Luna Park. Luna Park is celebrating 50 years since artists and architects banded together to save Luna Park. Credit: James Brickwood
That was until this week, when a mural of two clowns pulling open a cracker and a plaque honouring the 50th anniversary of the formation of the Friends of Luna Park was unveiled on the famous face.
This group of Sydneysiders honoured included some of the nation's now best-known artists, university students and local politicians, who banded together to save the park.
"Had it not been for the Friends of Luna Park and other supporters such as [local North Sydney councillors] Genia McCaffery and Robyn Read, this site would have undoubtedly ended up just another Sydney memory," Luna Park chief executive John Hughes said at a ceremony this week to unveil the work on the back of one of the face's pylons.
He said it was an honour to welcome the Friends of Luna Park back to the park, "decades after your displays of persistence to protect and preserve Sydneysiders' collective childhood."
The mural and plaque unveiled this week on the Luna Park face.Credit: James Brickwood
Film producer Margaret Fink was pivotal in transforming Luna Park into the pop art palace it is today. In 1973, she convinced her then-husband Leon Fink, who was a major shareholder in the park, to hand over the keys to a young group of artists including Martin Sharp, Tim Lewis, Peter Kingston, Michael Ramsden, Garry Shead and Richard Liney.
Armed with paint and imagination, Sharp and Kingston lead the artists who revitalised the park for the cost of $28,000 in June 1973, to coincide with the opening of the Sydney Opera House, and later fought for its re-opening.
The history of Luna Park has had as many ups and downs as its famous carousel horses.
It closed in mid-1979 immediately following the Ghost Train fire, which killed six children and one adult. It was renovated and reopened again in 1982, before it closed again in 1988 until 1995, when it opened again briefly for 13 months. Noise pollution complaints by residents saw it closed until 2004.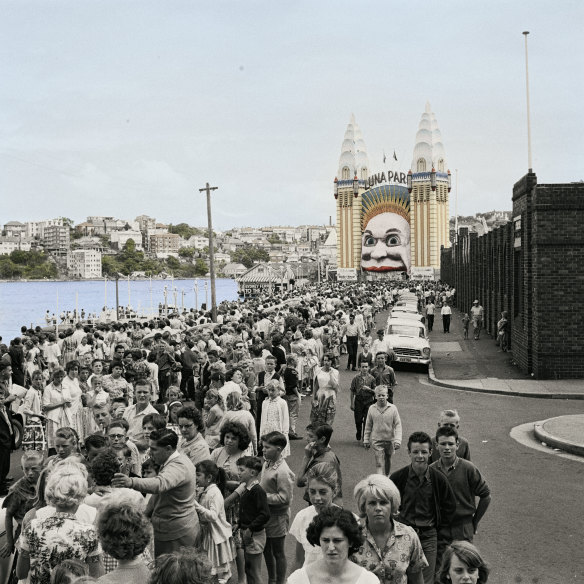 The Luna Park face in 1962.
During the many years it was closed, these artists along with the likes of Sam Marshall, an architect who joined the fight to save the park when he was a university student, fought to stop it from being knocked down and redeveloped. At one point there was even a proposal to turn it into a multi-storey World Trade Centre.
"We fought just to have a place where kids could go to have fun, and adults could go to be kids again," Marshall said this week.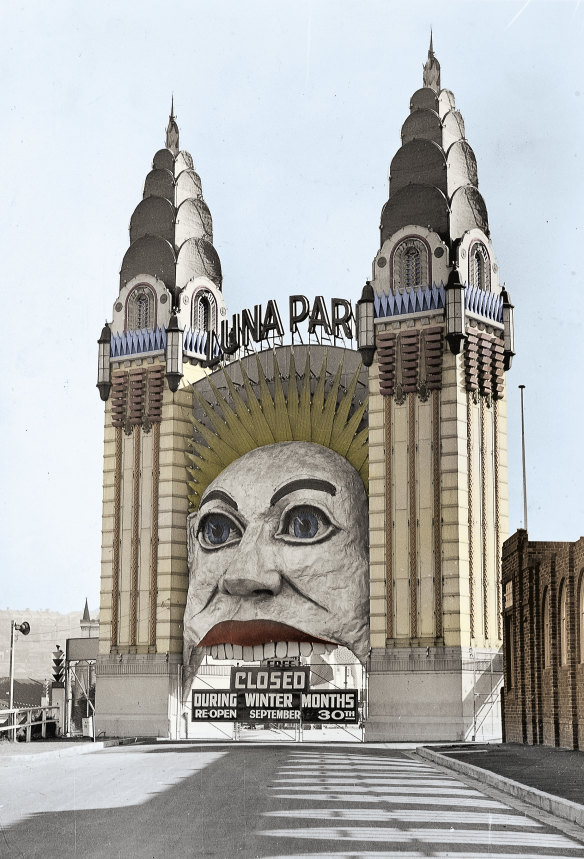 The original 1935 Luna Park face, with scalloped spires imitating the top of New York's Chrysler building, the world's tallest building in 1931.
Along with a hand-painted mural by Luna Park artist-in-residence Ashley Taylor, the plaque is inscribed with a sketch from Sharp and Kingston's placard from a 1980 protest meeting at the Town Hall. Both artists have since died, in 2013 and 2022 respectively.
Pop artist Sharp cheekily added the words "Ha Ha" to the facade in 1973, as a protest against the fact that Sydney Opera House architect Jorn Utzon was not present at the October opening across the harbour at Bennelong Point, it was reported at the time.
The "Ha Ha" remains today painted on the 1995 built face, 50 years after these artists made Luna Park laugh in the face of authority, and began the fight to save it from oblivion.
Luna Park General Manager Peter Mason said there was a generation of Sydney kids in the late 1990s who missed out on the fun of Luna Park.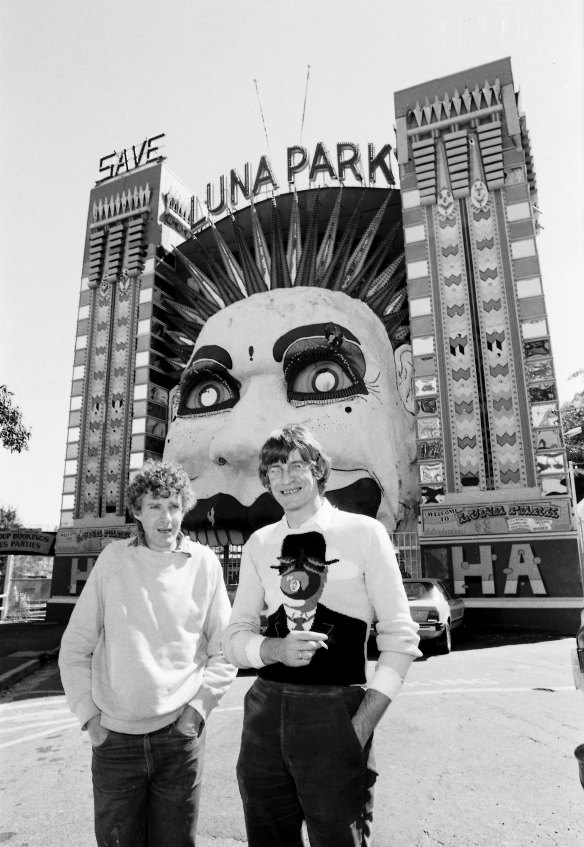 Artists Peter Kingston of Lavender Bay and Martin Sharp of Bellevue Hill, as members of Friends of Luna Park, 1973.Credit: Martin Brannan
"Kids in the late 1990s – the Time Zone arcade games generation – missed Luna Park," he said.
"Even things like the Manly fun pier disappeared, and became a Time Zonesque thing, then [Australia's] Wonderland filled the gap. But I love this place like so many of us do… and am so glad it was saved."
Most Viewed in Culture
From our partners
Source: Read Full Article