It's 8:00 am in the French woodland area of Morton, Domaine du Bois aux Daims, on April 24. Situated almost 300 miles from the country's capital, a select group of Europe's top runners, including Julien Wanders and Sondre Nordstad Moen, ponder at the start line of ASICS' "(BE)AT Your Personal Best", with some preparing for their first taste of competitive running in almost a year.
Lanyard-wearing event organizers disguised behind heavy-duty facemasks scurry around frantically with walkie-talkies and clipboards in hand, as a select few press and photographers scout out the best view points along the course.
While, from the outside, it might look like any other pre-race meet, the events past year have made things a lot more complex.
Of course a return to a resemblance of normal doesn't come without its barriers. Following a number of elite-only events like last year's London Marathon, a handful of behind-closed-doors championships have taken place across the world, many of which have resulted subsequent positive COVID tests. Such is the worry, more recently with the Tokyo Olympics just a few months away, both the Jamaican and U.S. relay teams joined a host of others in withdrawing from the upcoming World Relay Championships.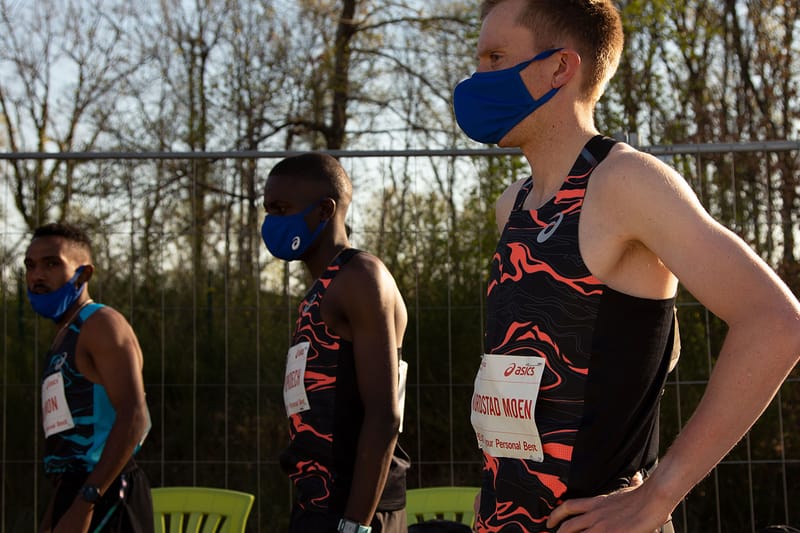 Anne-Sophie Soudoplatoff
This trial and error approach to the now-successful return of athletics has created many barriers to overcome for an event to go ahead which can be both time-consuming and costly — something of an issue to a sport renowned for its severe underfunding in a vast majority of countries. Such barriers, though, for
Anne-Sophie Soudoplatoff
Pre-event much of the talk was about the current the European 10km and half marathon record-holder Julien Wanders' planned attempt at attacking the 5km record too, but a bout of pneumonia two weeks prior saw him fall off the pace just over halfway. Instead it was Kenya's Boniface Kibiwott who grabbed a personal best, winning in 13:24, followed by France's Felix Bour (13:34) and Etienne Daguinos (13:36) who ran a new French under-23 record.
In the men's 10km, pacer Hillary Kipkoech cruised to victory to set a new world-lead at 27:35, with Spain's Jorge Blanco (28:27) and Sondre Nordstad Moen (28:35) almost a minute behind, while Sarah Lahti broke the Swedish women's 5km record. Rounding things out was Mekdes Woldu who achieved a personal best in the women's 10km with 31:47, finishing almost 2 minutes in front of Austria's Julia Mayer (33:35).
In total, 24 of the 34 runners achieved personal best times in Domaine du Bois aux Daims, with one world leading time. And while these numbers and personal accolades are important — as well as the clear quality the METASPEED Sky brings — the real success story of ASICS' "(BE)AT Your Personal Best" is a glimpse into the world of running's new normal.
Whether these restrictions stay in place for years to come or they're simply a temporary measure, its success bodes well for the upcoming Tokyo Olympics and how things might operate on a much larger scale – and suggests that the pandemic won't keep sport down for long.
Source: Read Full Article