Kyle Richards is returning to television with the premiere of The Real Housewives of Beverly Hills now in its tenth season. As the last remaining OG star from the franchise, she's coming in with a different perspective. As the first episode approached, Richards has been teasing fans with behind-the-scenes footage but some found it to be a little tacky.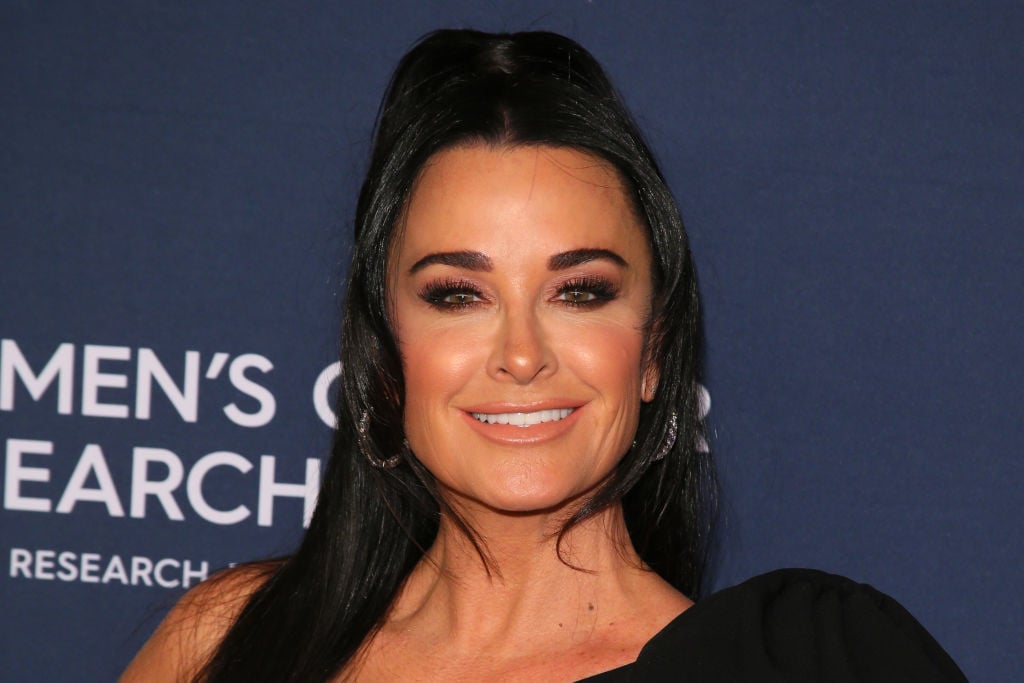 Richards shared the moment she was shooting the opening titles for season 10. The RHOBH star wore a white dress from designer Alex Perry that had a deep neckline.
However, not everyone shared Richards' excitement for the premiere in the middle of the coronavirus pandemic.
"WTF? This is what matters to you right now?" a fan questioned.
"And everyone else in the world is wondering how they are going to pay rent tomorrow," a follower added.
"Do you realize Americans are out of work and dying? Asking for all of America," a Twitter user commented.
Amongst all the negative comments, there was a fan that perfectly explained what was going on.
"She's doing her job and promoting the show," the fan said, to which Richards added, "That's right. Thank you. It is my job to promote our show that was shot 7 months ago."
Kyle Richards talks about the 'RHOBH' newbies
Season 10 of RHOBH will see two newbies come into the show: Garcelle Beauvais and Sutton Stracke. In an interview on Watch What Happens Live, Richards weighed in on the new cast members.
"I think they were great! They're great additions to the show," Richards said on the After Show. "I'm really excited for you to see them all and I've gotten really close to Sutton more so than Garcelle. She was doing, you know, another show at the same time, too, but they're both great additions, so I'm excited to have them on the show with us." 
Richards also weighed in on Caitlyn Jenner joining the cast as she said she would be interested.
"I did watch an episode with [Sophie] two nights ago, and I honestly kind of got into it," Jenner told Entertainment Tonight. "You know, I've done reality television pretty much all my life — sports is reality television — and I was watching that and saying, 'I could see myself getting in there with some of the drama.'"
Andy Cohen asked Richards about the latter and she said, "I think it would be very interesting, hey."
Kyle Richards hides from Lisa Vanderpump
The new season of RHOBH will be the first one without Lisa Vanderpump. Richards was Vanderpump's closest friend on the show and things fell apart really quickly between the two.
During the April 2nd episode of WWHL, Cohen asked if she had seen Vanderpump again and her answer was hilarious.
"I [saw] her twice at Neiman Marcus and once… It's just so hilarious. The second time I saw [Lisa] she didn't see me and I sort of like hid, to be honest. But this last time I saw her at a restaurant," Richards answered.
Richards then said she gave Vanderpump's husband, Ken Todd, a hug that he didn't find appropriate having ended their friendship.
"I said, 'Hello,' and to be honest, she was just, you know, short," Richards shared. "Then Ken came up after and I stood up and I gave him a hug and he said, 'Why are you giving me a hug? I kicked you out of our home.' And I said, 'I can still give you a hug, Ken. I do care about them but that was the last time I saw them."
The Real Housewives of Beverly Hills premieres on April 15 at 8 p.m. ET on Bravo.
Source: Read Full Article