Co-hosting the 58th Academy of Country Music Awards with Garth Brooks on Thursday, Dolly Parton got the country singer to blush when she suddenly suggested a "threesome" with his wife Trisha Yearwood during their playful opening monologue.
Leave it to Dolly Parton, 77, to know how to make the "King of Country Music" blush down to his boots. She certainly had Garth Brooks, 61, reeling with a "threesome" tease during their opening monologue for the 58th Academy of Country Music Awards.
The word quickly got to Garth's wife Trisha Yearwood, 58, who weighed in with her own thoughts about the cheeky comment after performing later in the show.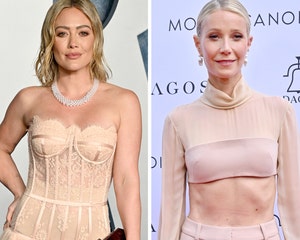 Hilary Duff Shares One Diet Trick That Gwyneth Paltrow is Already 'In Trouble For'
It started off playfully enough as Garth praised some of the icons of country music before deciding that maybe the "King of Country" music is actually a woman. He then called his co-host the G.O.A.T., which obviously means "Greatest Of All Time."
Dolly, however, came out onto the stage pulling a real-life goat in a cart. "Did I hear you say you were looking for a goat?" she asked him. Looking back at her charge, Dolly joked, "I think someone needs to come take her ba-a-a-ack!" She then added, "That was such a ba-a-a-ad joke!"
After gushing about Garth's career and impact on country music and beyond — becoming the biggest music artist in the world at his height — Dolly circled back around to the goat with a hilarious joke. First, though, she got him squirming when she joked she'd heard she was his "hall pass."
She wasn't lying, either, as Garth has said that in multiple interviews. Further, she'd heard that she was also Trisha's "hall pass," putting them in a unique situation.
"I just had a thought!" Dolly suddenly exclaimed. "I know why you're doing that G.O.A.T. thing. I think it stands for 'Garth Organized A Threesome!'"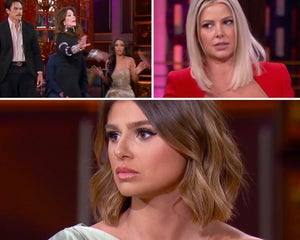 Ariana Eviscerates Tom & Raquel In Vanderpump Rules Reunion, Sandoval & James Nearly Come to Blows
After taking a moment to recover, Garth laughed, "And I thought I couldn't love you anymore," admitting he was "blushing to be working with Dolly."
After her electrifying performance of some of her biggest hits with Carly Pearce on the ACM Awards stage, ET had to ask Trisha about Dolly's off-color joke. "Everybody loves Dolly," she gushed. "Actually, people think this is Dolce and Gabbana but it's Dolly and Garth."
She confirmed that Dolly is, in fact, both her and Garth's "hall pass," reiterating that "everybody loves Dolly. We love Dolly so much."
Dolly is clearly totally aware of that! It was certainly a great way to break the ice and perhaps calm Garth's nerves a bit. He admitted to ET being a little anxious about hosting next to the G.O.A.T. (by any definition).
"He's been walking, pacing a lot, which means he's really thinking about it — and a little bit nervous," Trisha said before the show. Things went great, though, with fans praising the pairing of country legends — and loving that "threesome" joke!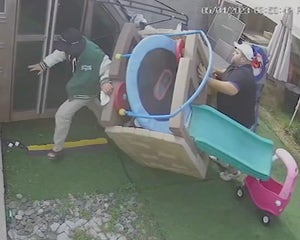 Video Shows Comedian Fight Off Alleged Thief By Hurling Daughter's Playset at Him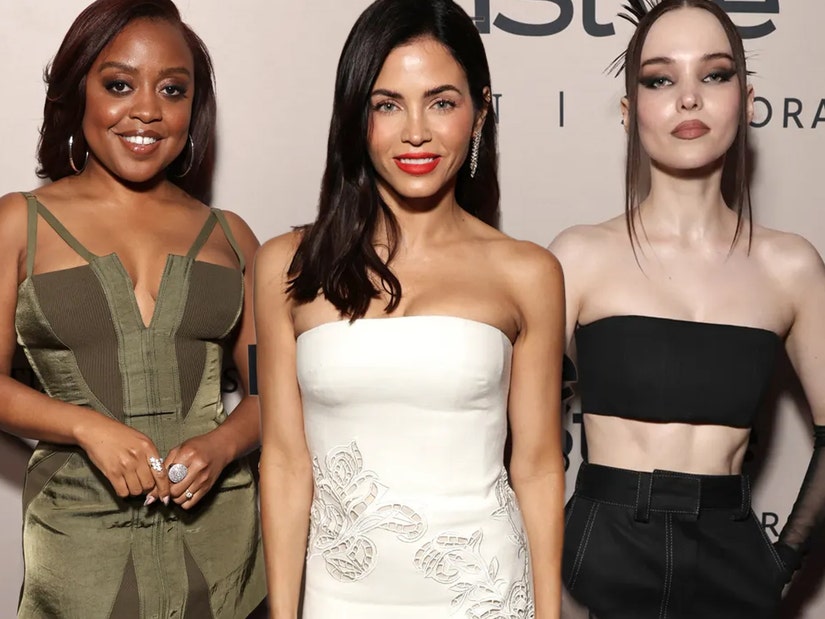 Source: Read Full Article