Ring video and body camera footage from responding officers show the murder, inferno and shootout between the man and police — during which the suspect was killed.
Police say a 66-year-old man from Long Beach, California drove 700 miles to his brother's home in Ogden, Utah armed with a 9 mm handgun, 23 fully-loaded magazines, a 12-gauge shotgun and 150 shotgun shells — before killing his sibling on his front stoop before also injuring his sister-in-law, setting the home on fire and dying in a shootout with police.
Weber County investigators released terrifying Ring camera footage — as well as body cam footage from one of the responding officers — on Thursday from the April 27 incident, showing the moments Jeffrey Roberts showed up to brother Scott Roberts' Utah home.
Due to the graphic nature of the footage, the video below is age-restricted and must be viewed on YouTube.com.
Unable to render YouTube Video.
After ringing the doorbell, Jeffrey calmly tells his brother he's there to see their mother. After being told she was in Missouri — and had been for about a year — Jeffrey then pulls out the handgun and begins firing.
As neighbors called 9-1-1, Roberts can be seen going in and out of the house while talking to someone on his phone. At one point, he's pictured holding a shotgun, as well as a large bag. He also tells someone on the other end of the phone to "empty my bank accounts, quick as you can."
During the attack, Scott's wife, Jodi, was also shot — though she survived. According to police, Roberts then used road flares to start a fire inside the house.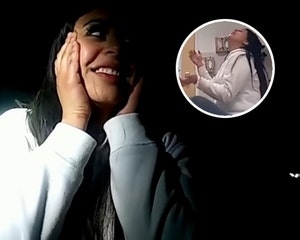 Woman Seen Dancing, Joking on Video After Fatal DUI Crash Gets 14 Years In Prison
By the time police arrived at the scene, the blaze was already roaring out of one of the home's windows, while smoke billowed from the open front door. The Weber County attorney's office said Roberts began shooting at authorities surrounding the home — and can be seen in doorbell footage firing toward the street. During the shootout, he was shot in the head and killed.
The incident is still under investigation.
In a GoFundMe post, Scott and Jodi's daughter said, "My mom is alive because my dad fought my uncle and told my mom to run. Knowing that my dad died a hero is bringing us a small bit of comfort."
She also said Jeffrey had been "estranged" from the family.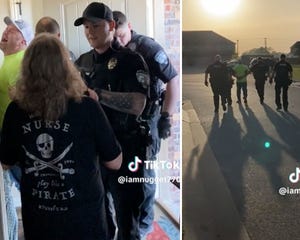 Viral Video Shows Arkansas Man Laugh In Disbelief As Four Cops Arrest Him For Piercing Son's Ear
Source: Read Full Article