'The Real Housewives of Orange County' alum takes to Twitter to express her thoughts on her ex's wedding, claiming that she is 'relieved' she is not the one at the altar with him.
AceShowbiz –Vicki Gunvalson is sending good vibes to Steve Lodge. "The Real Housewives of Orange County" star stated that she wished the best for her ex and his new life partner, but was thrilled she was not the bride.
On Wednesday, April 13, Vicki took to Twitter to share her thoughts on Steve's wedding. "People have been asking me to make a statement about my x-fiance's recent marriage," she tweeted, "Here it is…I wish them the best. I'm just so thrilled and RELIEVED it wasn't me at the altar with him."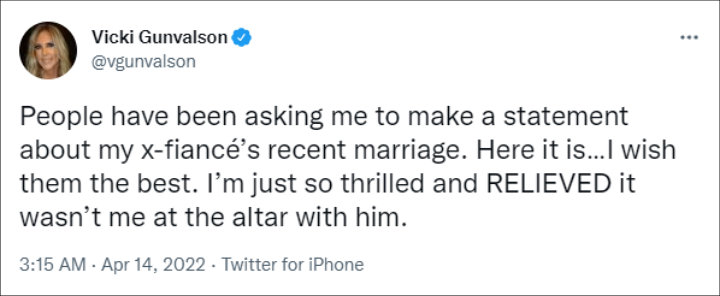 Vicki Gunvalson shared her thoughts on her ex's wedding.
One fans quickly replied to her, "As I am sure he was happy not to marry you either." It prompted Vicki to clap back with a bold remark, "It was me who didn't want to."
On Monday, April 11, Steve tied the knot with Janis Carlson. The former politician showed off their big day in an Instagram video. "Perfect weather, spectacular view, wonderful guests, memorable ceremony, sensational food and plenty of wine; And of course my beautiful wife," he wrote in the caption, "Thanks to all that helped make it one of a kind. We are now Mr & Mrs Steve Chaves Lodge."
Vicki dated Steve in 2016. The two met while attending a charity event and quickly hit it off. In 2019, he got down on one knee and proposed to her. They were engaged for two years before calling it quits.
In September 2021, Vicki addressed her separation from Steve on Instagram. Along with the post, the 60-year-old wrote a caption that read, "It's taken me a day to be able to make a statement after the press started writing about Steve and I. Yes, the rumors are true."
Vicki continued further, "The time has come for Steve and I to move forward or move on and we are …. moving on." She noted that they were "going in different directions," and she wished him "the best life has to offer and to be happy."
Source: Read Full Article