The 'Earfquake' rapper shares on his Instagram Story a clip of the Oscar-winning actor performing with some heart emojis, while the 'Erase Me' hitmaker tweets that he's 'prayin' for the ailing star.
AceShowbiz –Jamie Foxx has received some emotional support from more fellow celebrities amid his ongoing hospitalization. Both Tyler, The Creator and Kid Cudi have taken to their respective social media account to show love to the actor, who has been hospitalized since last month.
Tyler posted on his Instagram Story a clip of the "Ray" star performing along with a caption which read, "sending love to @iamjamiefoxx." The Odd Future Wolf Gang Kill Them All founding member added several heart emojis.
Meanwhile, Kid took to Twitter to express his support for the actor/comedian. He tweeted on Wednesday, May 10, "Man, prayin for Jamie Foxx."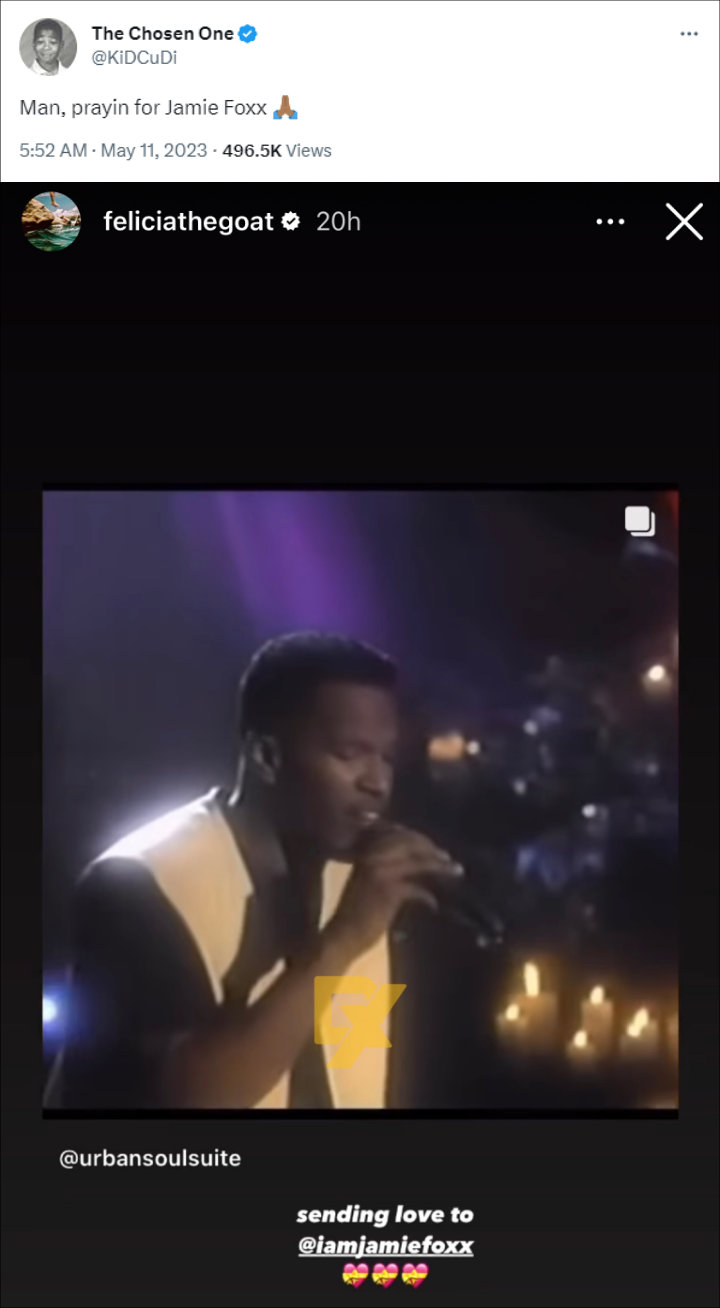 Kid Cudi and Tyler, The Creator showed support for Jamie Foxx amid the actor's hospitalization.
Jamie was taken to the hospital on April 11 after suffering what his daughter Corinne Foxx described as a "medical complication" in Atlanta, where he was filming his new movie "Back in Action". A few days later, it was reported that he was "awake" and "alert," though it's unknown when he would be released as doctors were performing more tests.
His friend Charlie Mack later sparked concern about Jamie's condition after he shared an alarming post. "Pray for Foxx!!!!!!!!!!" the film producer penned as he said that the 55-year-old needs a "miracle." He wrote in a lengthy caption, "Good morning IG, I need you all to constantly keep our beloved brotha @iamjamiefoxx up whom we all [love] & care for dearly in our Hearts, Minds & Prayers!!!! We need you back Bro @iamjamiefoxx you're fighter, strong & resilient so I know your fortitude. Your not going out like that."
Seemingly to assure that he's okay, Jamie later posted on Instagram for the first time since his hospitalization. "Appreciate all the love!!! Feeling blessed," he wrote, adding emojis of praying hands, a red heart and a fox. But there was no photo attached, prompting a speculation that he didn't post it himself.
Recently, Radar Online reported that Jamie's family is "hoping for the best" but "preparing for the worst" as he has been hospitalized for nearly a month. "Jamie's people are saying he's doing OK and improving, while doctors try to get to the bottom of his problems – but he wouldn't be in a hospital this long if he was anything close to OK," a source told the site.
You can share this post!
Source: Read Full Article