Remember a couple weeks ago when the entire word (by which I mean Bachelor Nation) was convinced that Peter Weber was in the midst of a passionate love affair with producer Julie LaPlaca? Based on the fact that they hung out on New Year's together and…that's basically it? It was truly the best of times and the most extra of times. The fan theory obviously wasn't true (Peter ended up with Hannah Ann…and then Madison Prewett…and then Kelley Flanagan), but it did kinda thrust Julie into the spotlight. And now former Bachelorette contestant Mike Johnson is out here leaving flirty musings on her Instagram.
Basically, Julie posted THIS glam shot to her IG:
And Mike stopped by the comments to shoot his shot, writing "Damn! Are you a producer or the future bachelorette 🌹"

Julie went ahead and responded "& I hear you're the bachelor now? 😏" to which Mike replied back "lmfao yesterday only."
Like, maybe I'm just missing The Bachelor franchise in my life right now, but this is kinda cute, and kinda flirty, and I kinda want it to happen. Also, am I alone in thinking Julie should break the fourth wall and show up on Bachelor in Paradise—or even on next season of The Bachelor? Give the people the content they crave, Chris Harrison!!!!!!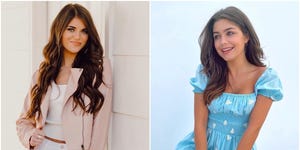 Source: Read Full Article