Michelle Obama might champion eating more fruits and vegetables but that doesn't mean she never eats dessert. Obama enjoyed having red velvet cake on special occasions during her eight years as first lady. 
The Obamas liked to celebrate birthdays with red velvet cake in the White House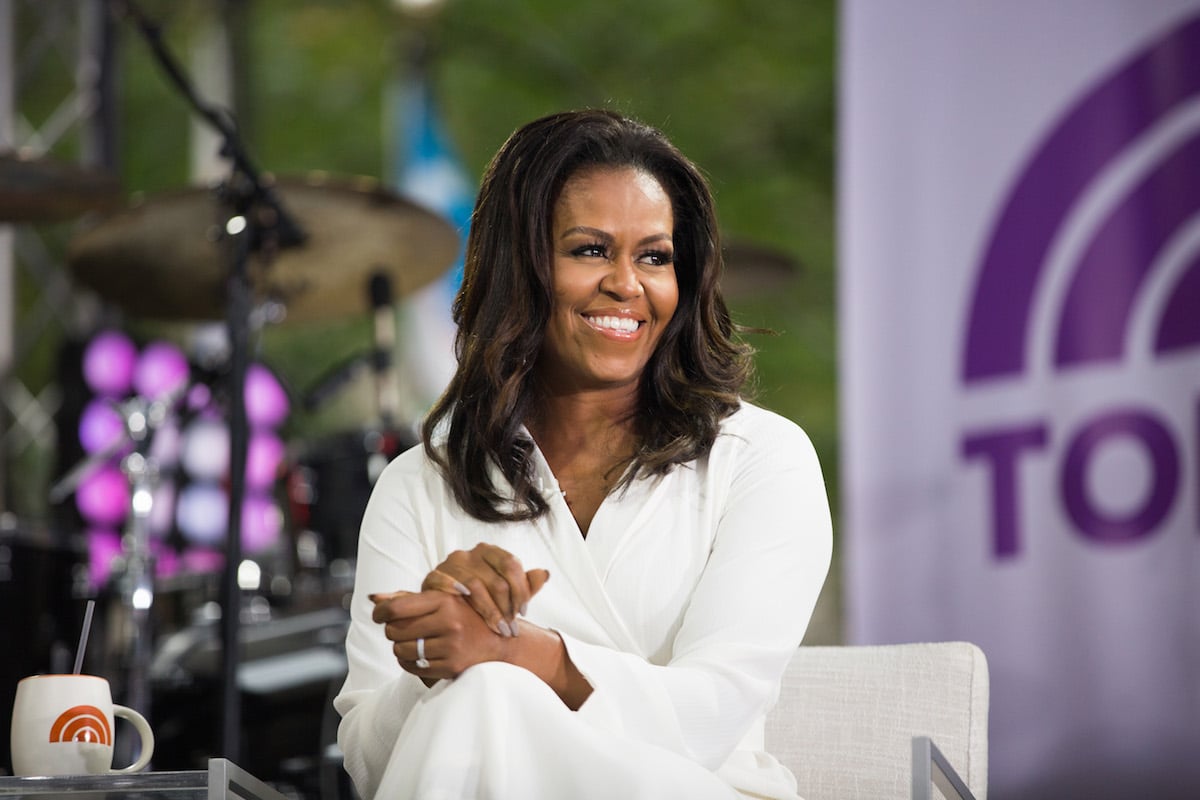 Even though the Obamas often had pie as a sweet treat — former President Barack Obama's love of pie is well-documented — cake wasn't off the menu completely. As part of their "Presidential Eats" series, Delish spoke with former White House executive pastry chef, Bill Yosses.
He worked as the personal pastry chef to the Obamas but also former President George W. Bush and former First Lady Laura Bush. Making the red velvet cake in an April 2021 YouTube video Yosses said it was "popular" with the Obama family and "one of "Mrs. Obama's favorite cakes." When did they serve it? At birthday parties, including celebrations for Sasha and Malia Obama, according to Yosses. 
The red velvet cake doesn't call for fancy ingredients
Just because the president and first lady were eating it doesn't mean the red velvet cake Yosses served the Obamas had any special ingredients. In fact, it was quite the opposite. The red velvet cake Yosses made for the Obamas had pretty standard ingredients, many of which can be found in the average kitchen pantry. 
The full red velvet cake recipe from Yosses is on Delish's website. What's in it? Typical cake ingredients such as eggs, butter sugar, baking soda, salt, and vanilla extract. However, he did add the approach to dessert in the Obama-era White House was that they "should be very good, made from good ingredients, and great technique." Because of that, Yosses and his team "always made the best desserts possible" using "the best ingredients possible." 
Here's a complete list of all the ingredients:
Granulated sugar
Unsalted butter 
All-purpose flour  
Baking soda
Buttermilk
Pure vanilla extract 
Eggs
Kosher salt
Cocoa powder 
Red food coloring
Hot water
Vinegar
Cream cheese
Confectioners sugar
How to make Obama's red velvet cake
Now for step-by-step instructions. The pastry chef started by creaming together the butter and sugar. While it was becoming light and fluffy Yosses sifted the dry ingredients.
Then he enlisted some help. Yosses slowly poured in the liquid ingredients while another person added the flour. They alternated adding the ingredients to form the batter.
Then the cake batter got spread into a shallow cake pan before baking. With the cake in the oven Yosses creamed together soft butter and cream cheese for the frosting.
Then he cut the cooled cake in half and trimmed the sides. Yosses then assembled layers of cake and cream cheese frosting and frost the sides. A tip from Yosses: use a pastry bag to frost so there's less of a mess. Decorate with the discarded cake pieces and the cake is ready to eat. 
Source: Read Full Article