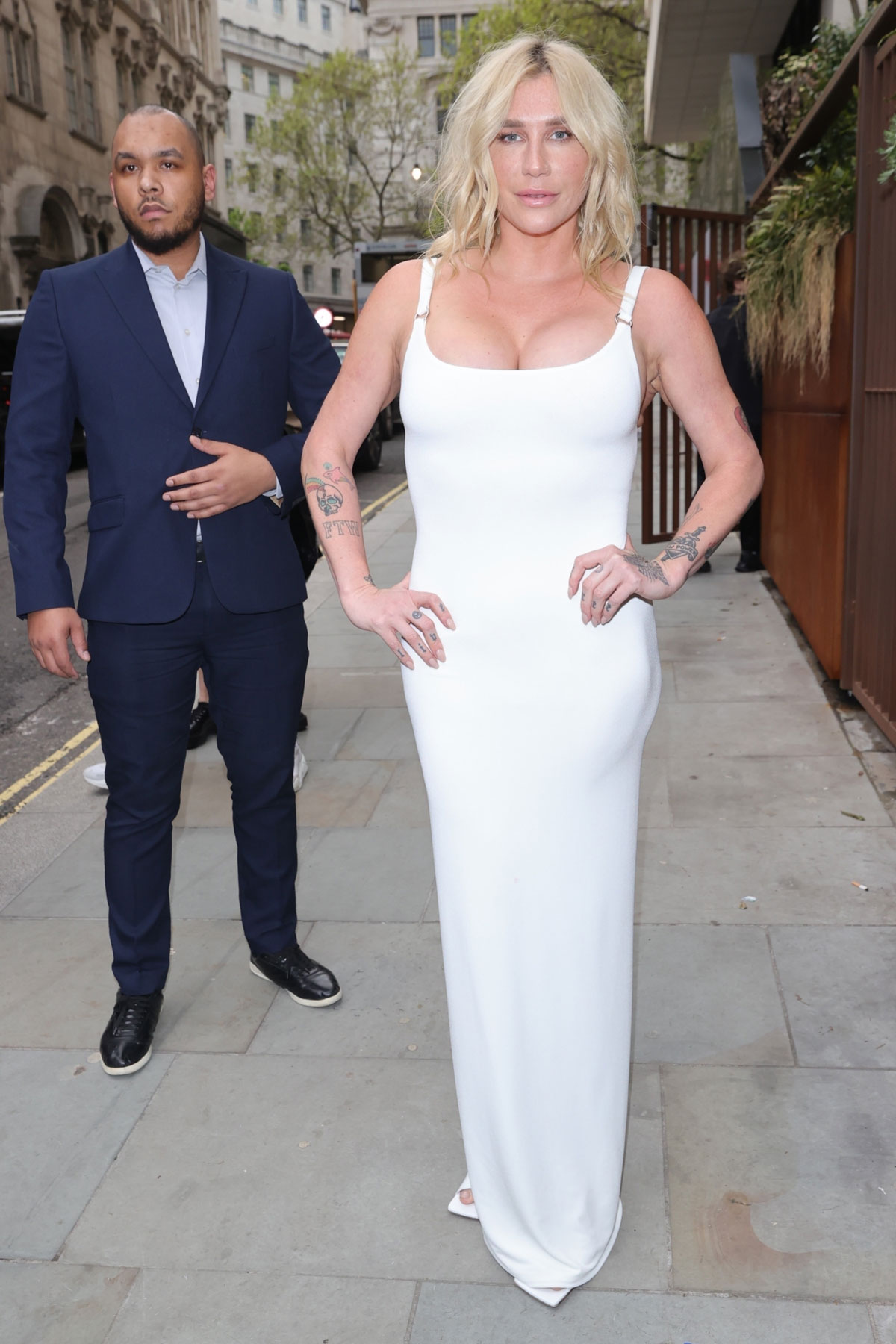 Being a woman in the public eye while the legal system says "No, this person didn't abuse you, and you really need to fulfill your contract with him," must be completely soul-crushing. We've watched Kesha work to come back into her own, and it's been in turns heartfelt and kooky. Well, all I can say is her work has paid off. On the heels of releasing her fifth studio album, Gag Order, Kesha sat down with Zane Lowe from Apple Music, and in their nearly-one-hour conversation Kesha laid bare how leaning in more to her psychedelic breaks was her way forward:
Anxiety can often feel like one's brain is playing a trick on them, and Kesha's opening up about feeling that to the utmost degree.

In a new interview with Apple Music's Zane Lowe, the singer-songwriter revealed she once had such intense anxiety that she mistook it for a "psychotic break," noting that she's since turned to "spirituality" in order to heal.

"I went through this crazy psychedelic spiritual experience in the midst of the anxiety… it was pure anxiety," said Kesha, 36. "My brain felt like… I thought maybe it was the process of having a psychotic break or something. But then once I just started leaning into it, I was like, 'Well, it's happening, so what am I going to do about it?' "

She explained that a song from her new album Gag Order was inspired by the experience: "I had this full psychedelic kind of trip sober, and that's what 'Eat the Acid' is written about."

Released last week, Gag Order finds the "Tik Tok" performer in an especially introspective space, as she sings about mental health and past romantic relationships. Throughout the record, she also seems to allude to her ongoing legal battle with ex-collaborator Lukasz "Dr. Luke" Gottwald.

"I have people that I trust implicitly so much in my life, so I'm very lucky for that. But I have a harder time in romantic relationships fully trusting," explained Kesha. "I'm going to be honest with you. And yeah, it's something I work on. That's why I'm constantly working on myself is because […] selfishly, I'd like to be happy."

She then detailed another Gag Order track, an emotional ballad titled "Happy," that discusses her search for peace in its lyrics: "It's about just that I want to be happy, I want to let go. I want to be free. I want to trust the process, trust the universe, all of those things."

"And I do feel like I cannot just remain in my childlike self. So there's an element of having to grow up," added the Grammy nominee. "And I feel like this album completely documents the time where I was like, 'OK, I have to deal with some s— and I just need to walk through it, and it's going to be really uncomfortable. And I feel like it's really helped me grow into a woman, and you know, you hear it all on the album."
[From People]
"Selfishly, I'd like to be happy," is one of the most emotionally honest things I've ever heard. And it's not a bad thing to want! I highly recommend watching the full interview with Zane Lowe. For one thing, I have never seen her look so good. She's clear-eyed and fresh-faced. I mean, she also seems like at any moment she could start crying, but she wears it as more of a strength than a weakness, and their conversation touches on how overwhelming it can be to take in the world when you're a sensitive person. It can so easily feel like too much–that's written all over her face. But she's still showing up, and she's investigating anything (spirituality, horoscopes, traditional therapy) that might make it easier. It sounds like making Gag Order (is that a freakin' brilliant title for her or what?) was cathartic.
Here is the lyric video for Happy:

Embed from Getty Images
https://www.instagram.com/p/CshOukAuT5q/
https://www.instagram.com/p/Cso5u-3urqh/
photos credit: Backgrid, Getty and via Instagram
Source: Read Full Article