Kylie Jenner being a great mom? A savvy influencer? A mercenary businesswoman?
That's the debate after the Kardashians star's latest Instagram Story. Kylie posted on Sunday afternoon about her trip to Target, showing off a shopping cart full to the brim with tie-in merchandise for Disney's next big live action remake. She wrote:
"Had to stop and get all the new Little Mermaid toys for Storm"
She also tagged Halle Bailey, giving the young star a huge shout-out. Very sweet.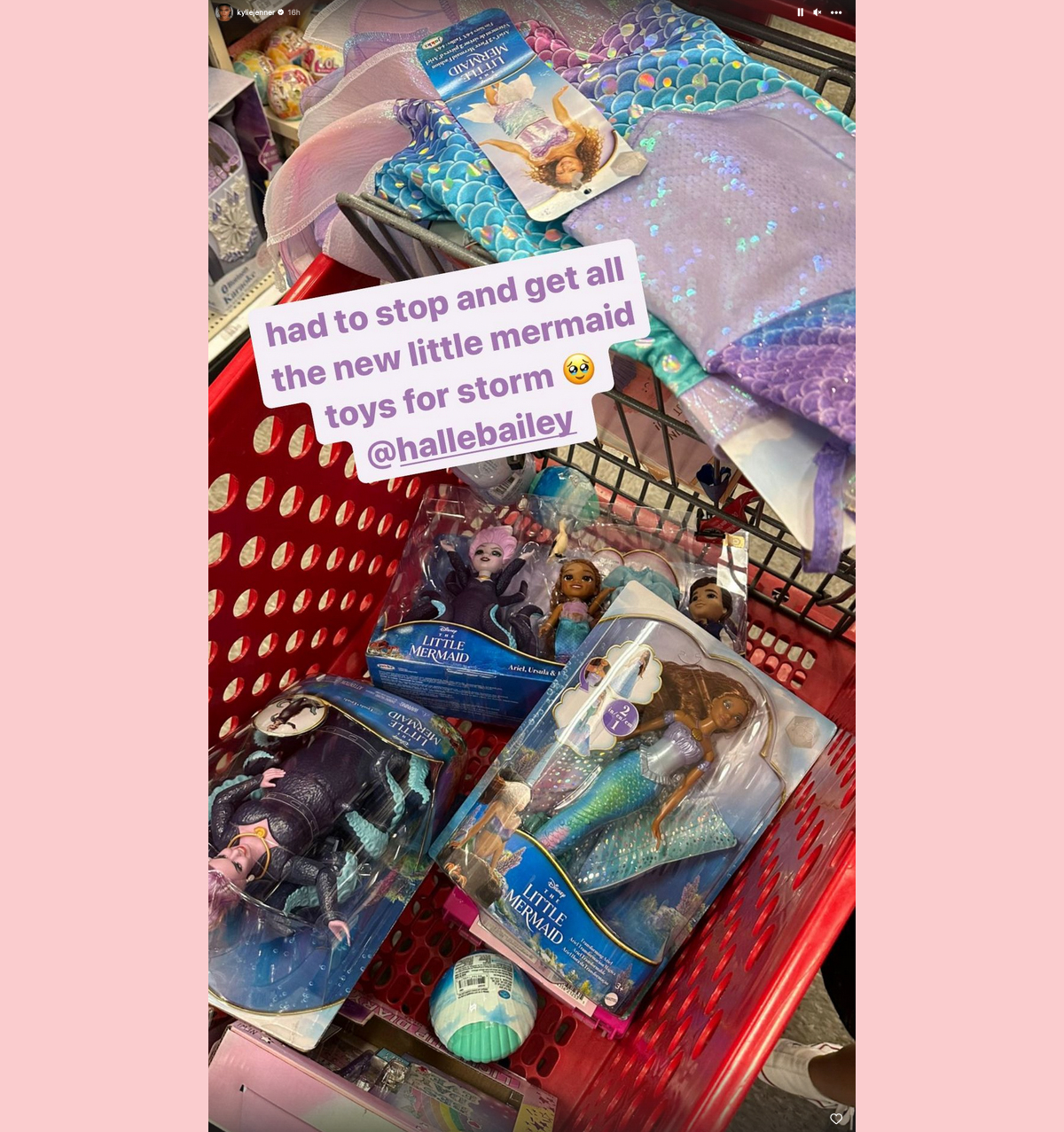 All for Stormi Webster? Spoiled! LOLz! The cart contained Little Mermaid costumes, dolls of various sizes, a child's diary, what looked like a shell. Look at this stuff. Isn't it neat? Sure, but… is this treasure trove of surface world merch really a gift Mommy bought for her little girl? Or is this post totally fake??
Kylie may have bought everything, but a lot of fans weren't buying any of it! Comments aren't available on IG Stories, so KarJenner stans (and, to be fair, haters) took to Reddit to give their two cents. A few couldn't believe Kylie even went to Target:
"Would bet someone a starbucks kylie did not go to target and take this picture herself"
There's no way Kylie just went shopping by herself"
"I remember the episode where Kylie and Kris go 'regular grocery shopping' because they thought it was fun and unique lol."
They make an inneresting point. Unlike her usual selfie style, Kylie is nowhere to be seen in this pic. It's just the shopping cart. She could have sent out an employee to buy it all and take a pic. Why hide that if so? Well, one fan had a theory:
"Kylie, Khloe, Kim and Kourtney have all posted snaps/photos at Target before… No way they're just strolling into a normal Target in the middle of the day. Do they ask to go at a special time? Put on disguises? Try to look nonchalant with their security? I don't get it at allllll. I feel like they post/fake it just to seem relatable."
Is that what it is? There certainly have been accusations lobbed Kylie's way for that before — especially when she suddenly was taking family trips to the big box store after the PR disaster of taking private jets around SoCal just to avoid traffic.
But an even more cynical theory suggested Kylie never bought any of it — and it was all just a viral ad for Disney's merch machine! A fan wrote:
"I hate to be a party pooper, but that is an ad. They have a contract with Disney (that owns Hulu) to promote their brands in several different ways. Kylie was asked to take this picture pretending that she went to a supermarket with her little cart (I'm shocked anyone believes that) and had to bought this merch, because Disney makes a s**t tons of money on new movies merch (because it costs nothing to make)."
Yeesh! Really pulling back the curtain on that one! And several readers agreed, with some even pointing out how Kylie failed to properly label the photo a "hashtag ad" if it was one. Pretty shrewd. Or is the word unscrupulous?
What do YOU think, Perezcious readers? Is this just an #ad for Disney? An attempt to seem #relatable? Or did Kylie really get Stormi all those Little Mermaid toys??
Source: Read Full Article