Clip-on reading lights aren't just a simple solution for late-night reading that won't disturb the person sitting next to you, they're also a great way to offer illumination in tight spaces that are just too small for table lamps. The best clip-on reading lights typically fall into two categories: lamps and book lights. Both allow you to read and study better in dim light, but they're designed a bit differently. Lamps have larger clamps that attach to headboards, desks, or nightstands, while book lights attach directly to the page or binding. The former offers a bit more illumination, while the latter is especially great if you travel a lot or have a partner who goes to bed early.
When shopping around, there are several factors to consider:
With these considerations in mind, take a look at the best clip-on reading lights below.
We only recommend products we love and that we think you will, too. We may receive a portion of sales from products purchased from this article, which was written by our Commerce team.
The Best Clip-On Lamps
This Versatile And Flexible Lamp That Clips To Desks, Nightstands, And More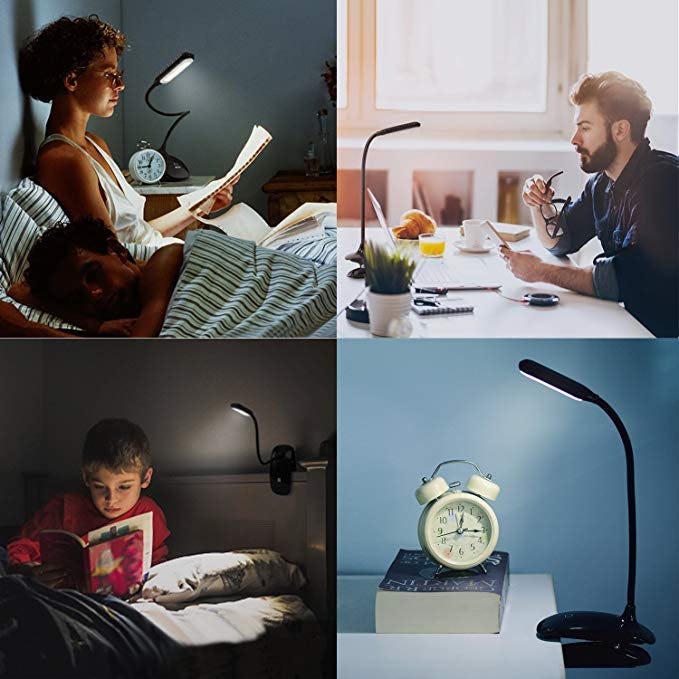 Power source: Rechargeable USB
What's great about it: With a flexible gooseneck that rotates 360 degrees, you can aim this versatile Raniaco reading light in any direction. The easy-touch button lets you toggle between three brightness levels, depending on your needs, and the 12 LED lights are frosted, so they deliver a soft glow that's not at all harsh. It offers up to 24 hours of light on one charge, and the silicone-covered clamp firmly grips desks, nightstands, and even slim-profile headboards.
One reviewer wrote: "It's bigger than what I was initially looking for, but still lightweight enough to clip where I prefer it next to my bed no problem. Also, it does stand on it's own like a table lamp if that's useful to you. […] The neck bends and stays where you need it and the lamp itself lights up both pages wonderfully so no 'sweeping' it back and forth."
A Wallet-Friendly 2-Pack Of Simple But Useful LED Lights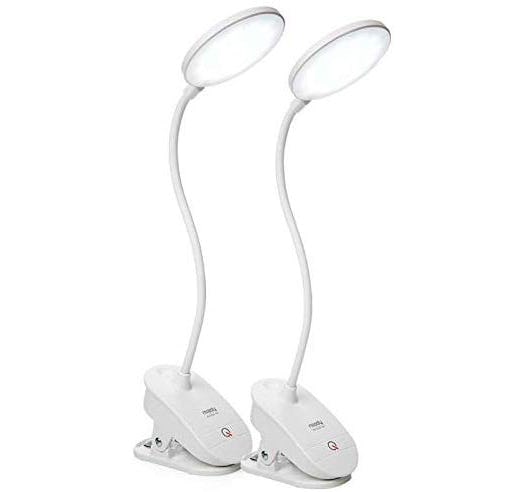 Power source: Rechargeable USB
What's great about them: These budget-friendly clip-on bed lamps, which come in a two-pack, are similar to the first option in that they feature flexible goosenecks and have three brightness settings you can adjust with a button. However, with 18 LEDs in each lamp, they cover a wider surface area, which means you get more light. They're a tad heavier than the first option, and only last from 3 to 10 hours (depending on the brightness setting) before needing to be recharged, though.
One reviewer wrote: "This light is great! So versatile as it can both stand and clip onto something. The adjustable arm makes it easy to direct the light where you want it. And the 3 levels of brightness allow you to adjust to your preference. Very easy to recharge as well."
A Headboard Lamp With Warm And Cool Lighting Options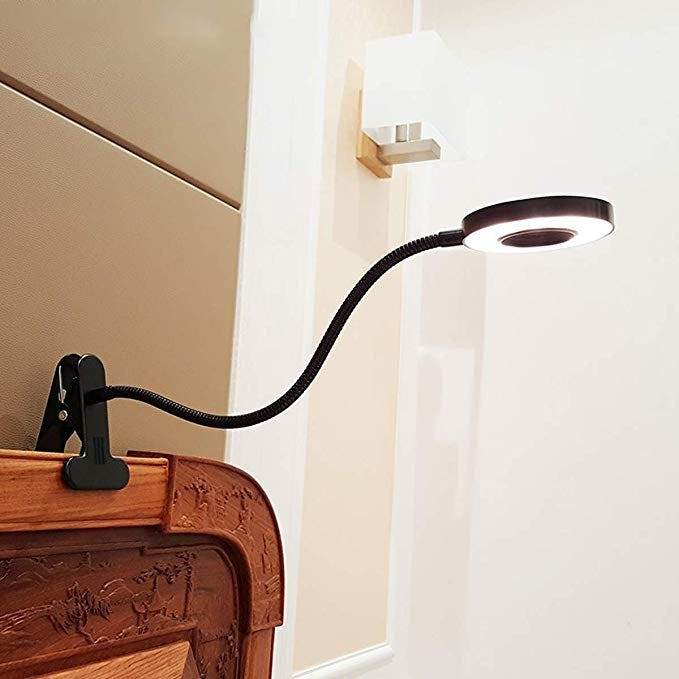 Power source: AC outlet or USB port
What's great about it: If you're looking for something that specifically works on your bed, this headboard clamp light is a great bet. The sturdy clip opens up to an extra-wide 2.4 inches, so it'll fit headboards of most sizes, and the scratch-resistant rubber clamps offers added protection and grip. Also a bonus — there's a hanging option if you decide to permanently mount it. The light evenly diffuses illumination, and although it's not dimmable, you can switch back and forth between warm and cool light. The bendable neck lets you aim the light, and you can toggle between cool light and warm light. Note that the light is not rechargeable and needs to be plugged in to a wall outlet or USB port in order to operate.
One reviewer wrote: "Nice clip holds really sturdy to the headboard and accommodates a thick headboard. Very nice option of 2 different light settings and LED does not even get warm. Highly recommend."
The Best Clip-On Book Lights
A Mini Book Light That's Less Likely To Interfere With Your Sleep Cycle
Power source: Rechargeable USB
What's great about it: With a special blue-light blocker that, according to the manufacturer, helps you sleep, this reading light clip isn't just functional, it's relaxing, too. The manufacturer states that the warm amber light is 99.95% free of the blue light rays that are notorious for keeping you up at night, which means it may not interfere with your body's natural melatonin production. It features three brightness levels and a powerful battery that lasts for up to 60 hours on one charge. It has a malleable gooseneck and a sturdy clip with a rubber pad.
One reviewer wrote: "Perfect book light for reading in bed. The light color is amber, without blue light, easy on eyes and won't disrupt your circadian rhythm. It has 3 brightness levels, long battery life and wide clip. Highly recommend!"
A Collapsible Featherweight Book Light That's Perfect For Travel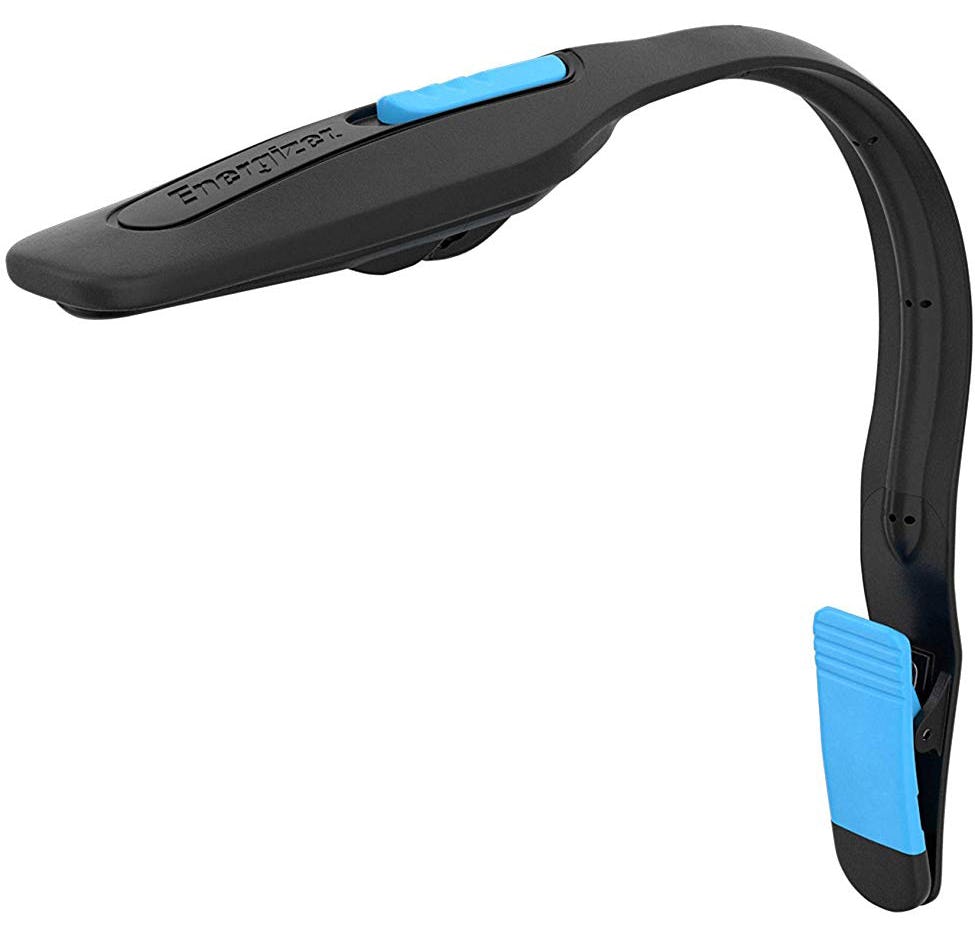 Power source: Two coin cell batteries (CR2032)
What's great about it: If you read a lot on the go, this is one of the best clip-on book lights for travel. It's exceptionally compact and fully collapsible for easy packing. Weighing in at under an ounce, it's also the most lightweight option on this list. Like some of the larger versions, the neck is flexible, and the clip secures firmly to your book without damaging the pages. It runs on two coin cell batteries (which are included) that last about 25 hours before needing to be replaced. Keep in mind: there's only one lighting setting, so you can't adjust the brightness.
One reviewer wrote: "Even though it is very bright, the beam is concentrated to where you need it so as not to light up the entire room, thereby defeating the purpose we purchased it for in the first place. It is very lightweight so it clips onto any book be it hard or softback."
This Unique Reading Light That Loops Around Your Neck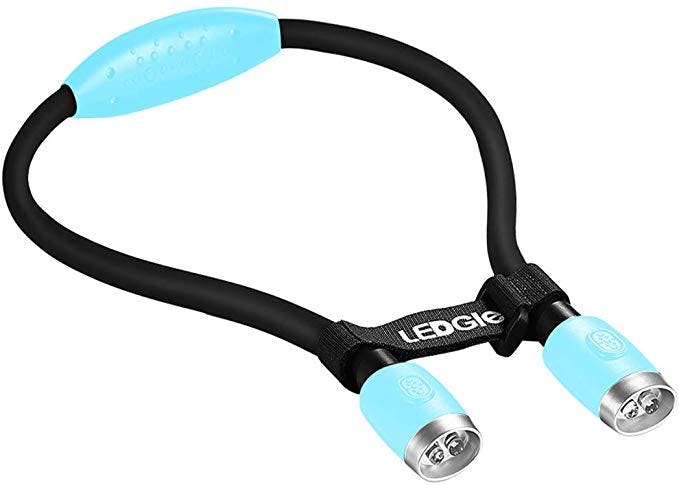 Power source: Rechargeable USB
What's great about it: While this pick may not exactly qualify as a "clip-on" light, it's a super clever alternative that lets you read hands-free, and buyers love it. The innovative reading light for bed features a unique design that you hang around your neck to illuminate your book. The four bright LED lights give you up to 50 hours of illumination, and you can toggle between four brightness settings, as well as a floodlight to cover a wide surface area, or spotlight for targeted reading or illuminating dark corners. It's lightweight, surprisingly comfortable, and the arms are flexible, so you can aim them where you want.
One reviewer wrote: "I absolutely LOVE this neck light! I love that it has different colored light settings and that I can use one side at a time. It really illuminates the whole page but doesn't light up the room. … I typically use one side on the warm setting and the battery lasts for weeks. I don't wear it when it is charging because it gets warm. Very much worth the money!"
More like this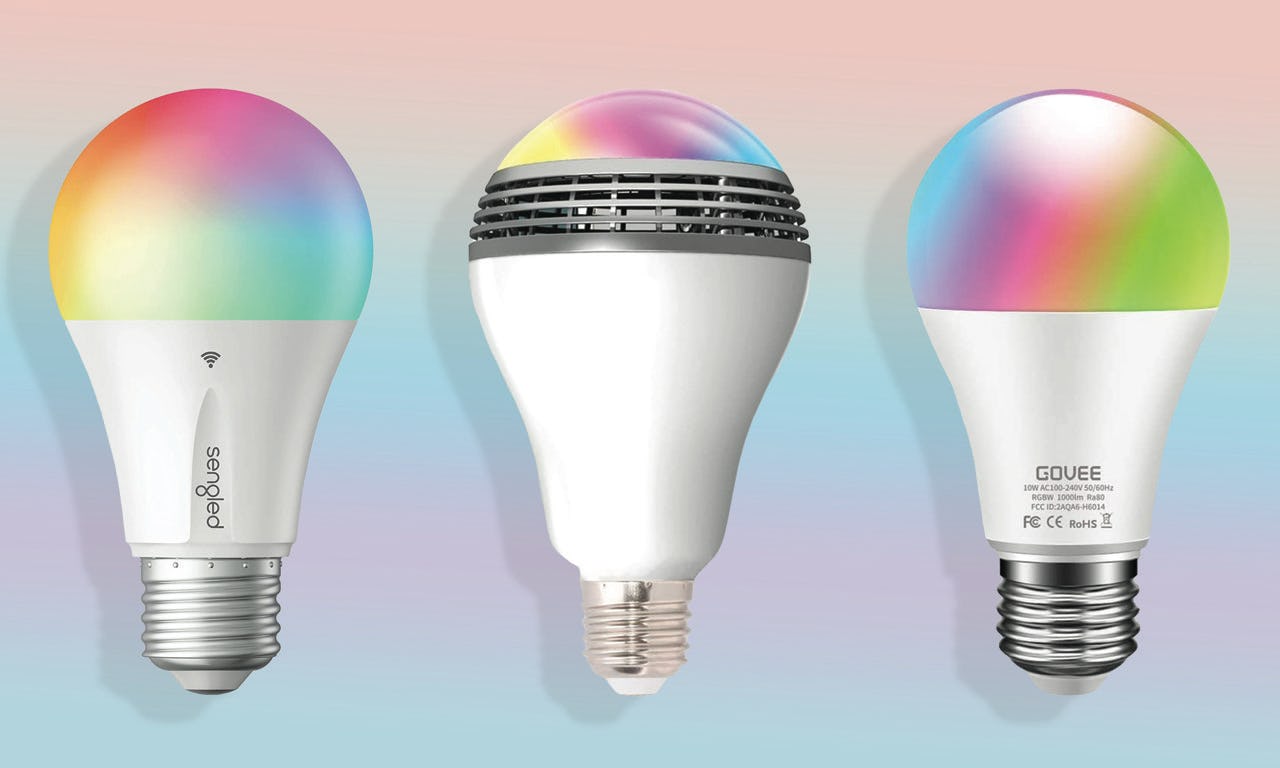 The 4 Best Color-Changing Light Bulbs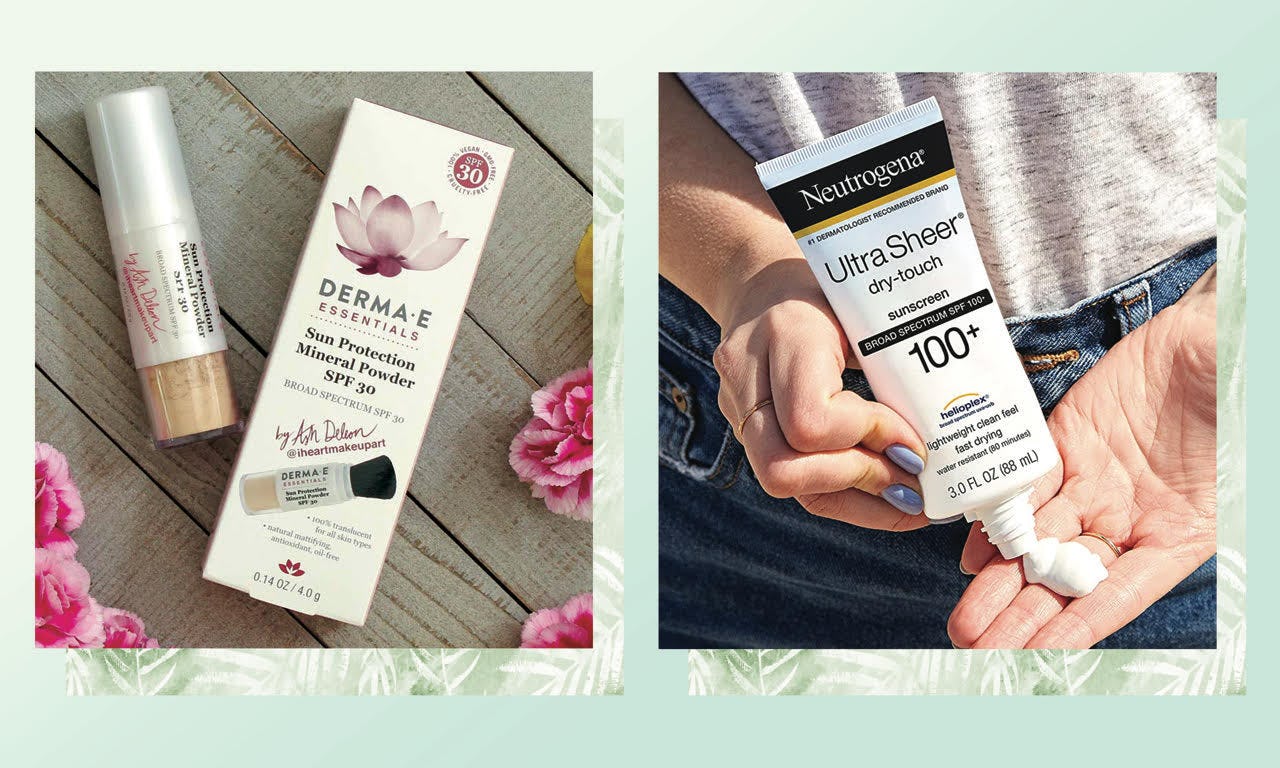 5 Sunscreens That Don't Leave A White Residue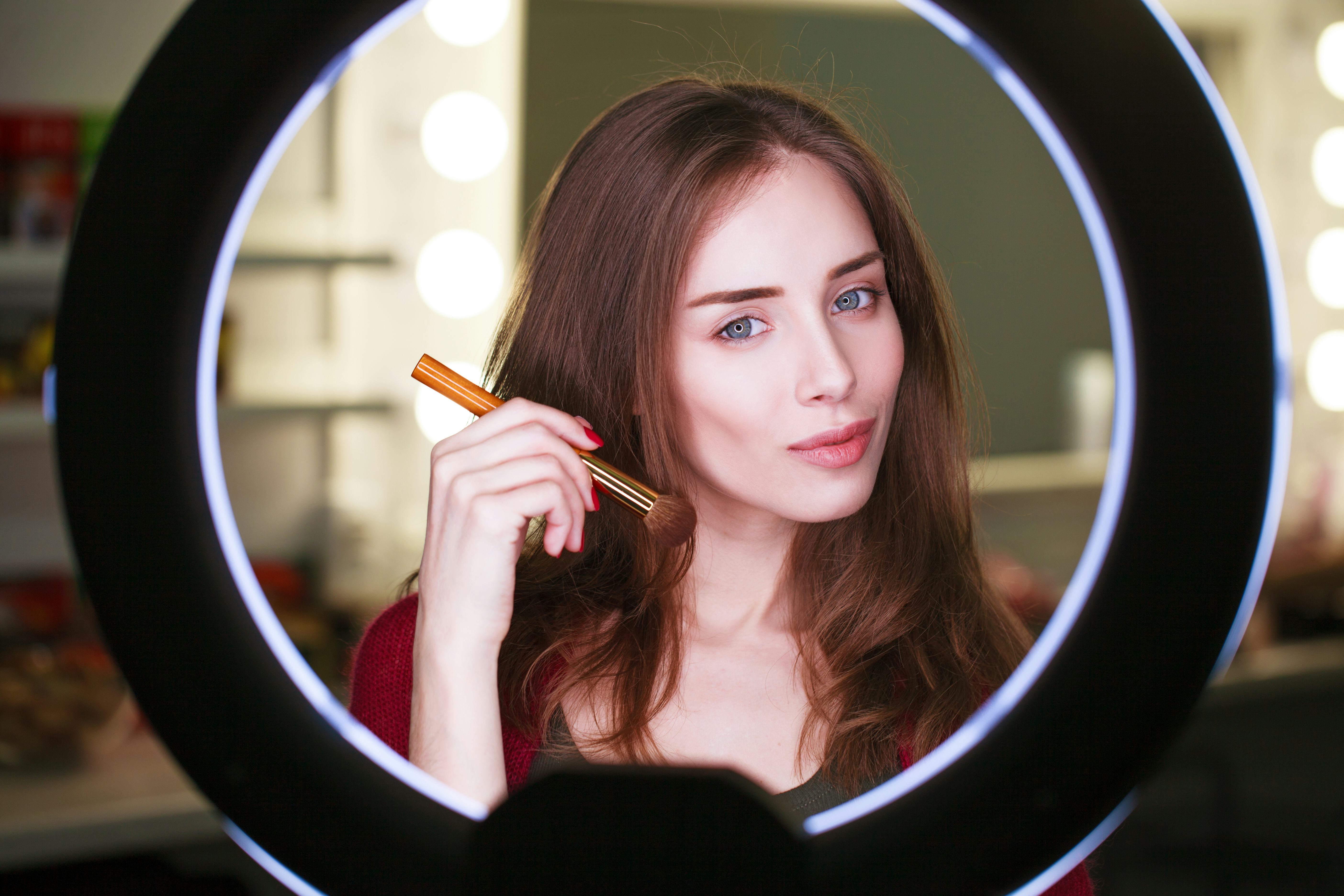 The 3 Best Ring Lights For Makeup
Stay up to date
Don't miss a thing with the Elite Daily newsletter.
Source: Read Full Article